Durable Power of Attorney for Health Care (DPAHC)
A legal document in which a competent person gives another person (called an attorney-in-fact) the power to make health care decisions for him or her if unable to make those decisions. A DPA can include guidelines for the attorney-in-fact to follow in making decisions on behalf of the incompetent person.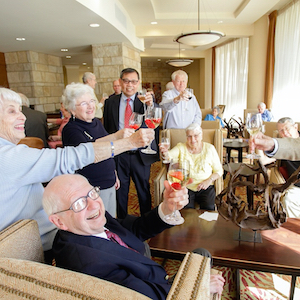 April 18
Spreading thanks
Houston and North Greenbush, NY
Residents of Brazos Towers at Bayou Manor, a senior living community in Houston, recently held a virtual "gratitude party" for residents of Eastwyck Village of North Greenbush, NY, to thank them for their assistance after Hurricane Harvey.