Group home
Also called "board and care home" or "group home." Facilities that offer housing and personal care services for three to 16 residents. Services (such as meals, supervision and transportation) are usually provided by the owner or manager. May also be a single-family home (licensed as "adult family home" or "adult group home").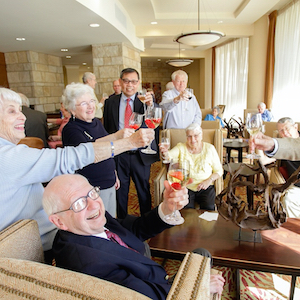 April 18
Spreading thanks
Houston and North Greenbush, NY
Residents of Brazos Towers at Bayou Manor, a senior living community in Houston, recently held a virtual "gratitude party" for residents of Eastwyck Village of North Greenbush, NY, to thank them for their assistance after Hurricane Harvey.