Home health care
Includes a wide range of health-related services such as assistance with medications, wound care, intravenous (IV) therapy, and help with basic needs such as bathing, dressing, mobility, etc., which are delivered at a person's home. Home care includes assistance with: ambulation and exercise; self-administered medications; reporting changes in conditions and needs; completing appropriate records; personal care; homemaker services or home health aide services.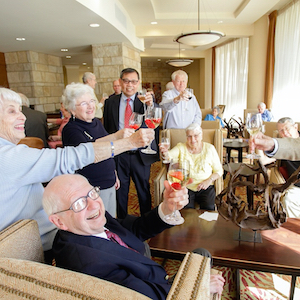 April 18
Spreading thanks
Houston and North Greenbush, NY
Residents of Brazos Towers at Bayou Manor, a senior living community in Houston, recently held a virtual "gratitude party" for residents of Eastwyck Village of North Greenbush, NY, to thank them for their assistance after Hurricane Harvey.