November 22, 2017
Mailed merriment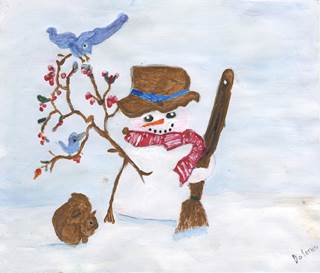 Snow Man by Delores Bost, a resident of New Perspective – Waconia, MN, will be one of the cards sent out by New Perspective Senior Living for the holidays this year. See other cards in the slide show.
Recipients of holiday cards from New Perspective Senior Living this year are in for a special treat.
The Eden Prairie, MN-based company's 21 communities will be sending six separate cards designed by residents, and the company's resource center will use a seventh design. All of the designs were winners in the company's first resident Christmas card contest, which is expected to become an annual event.
More than 100 entries from across the organization were submitted, according to New Perspective.
"Our seniors loved it," said Doug Anderson, New Perspective Senior Living vice president of marketing. "Almost as soon as we announced the contest, we had residents asking who had won and when they'd see the new cards. The hardest part was narrowing the selection down to the final seven."
The winning artwork was created by residents ranging in age from 65 to 95 years old. Winners were selected based on overall impression and impact, memorability and inspiration to others. Judging was conducted by a committee representing various disciplines within the company.
"Last year, we created custom Christmas cards using artwork created by Dolores Bost, one of our New Perspective – Waconia residents," said Ryan Novaczyk, New Perspective Senior Living president and chief financial officer. "We received such an amazing response we immediately knew we wanted to expand the program to include all of our residents."
Bost was one of this year's winners, along with Dorothy Ives of the same Minnesota community. Other winning entries were created by Peggy Ritter of New Perspective-Eagan, MN; Joyce Vigessa and Arlene Heins of New Perspective-Faribault, MN, Joyce Todd of New Perspective-Silvis, IL; and Donna Matheson of New Perspective-Sun Prairie, WI.
In addition to seeing their winning artwork transformed into holiday cards, each of the winners received a $100 gift card.
See all of this winning cards in this slide show.
Click here to see the In Focus archive and read how to submit your photos for consideration.