October 25, 2017
The long haul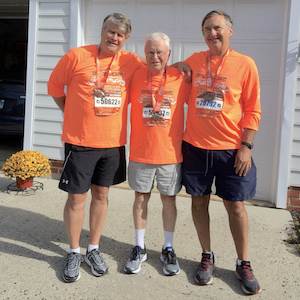 Oak Crest resident Bob Gralley, 91, is flanked by his sons, Kevin, left, and Craig after running 13.1 miles Oct. 21 in the Baltimore Running Festival.
Bob Gralley used the loop road and fitness center treadmill at the 87-acre campus of Oak Crest, an Erickson Living retirement community in Parkville, MD, to train for the half-marathon he ran Oct. 21 in the Baltimore Running Festival.
It was the 17th completed half-marathon for the 91-year-old resident, who also has finished 42 marathons since he began running at the age of 45.
"I've made special friends along the way, from fellow runners across the country to the fitness trainers at Oak Crest," he said. "There's nothing like the excitement of marathon day, and I hope to compete again in 2018."
Joining him in this year's event were his sons, Craig and Kevin. The three crossed the finish line together in 3 hours and 48 minutes.
Gralley also gets exercise by cycling with his family on the weekends.