October 30, 2017
Administrator 'not shocked' that NY woman missing for 42 years was found at his MA facility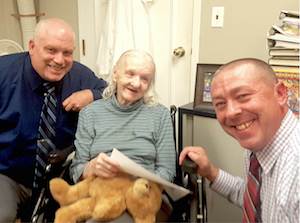 Flora Harris is flanked by Det. Ed Clouse, left, and Det. Rich Morgan of the Sullivan County (NY) Sheriff's Office. (Photo courtesy of Sullivan County Sheriff's Office)
The administrator of a Massachusetts long-term care facility tells McKnight's Senior Living that he is "not shocked at all" that a New York woman missing for more than 42 years was found living where he works.
In fact, unbeknownst to authorities until last week, the woman had been living at CareOne of Lowell in Lowell, MA, since 2001.
"Obviously, we knew she was alive and well, as did her insurance, because they've been paying us for the last 15 years plus," Administrator Nathan Norton said. But he and others there had been unaware that she was the subject of a missing person report until last week, he said.
That's when detectives from the Sullivan County Sheriff's Office in Monticello, NY, contacted CareOne after discovering that a resident there had the same Social Security number as Flora (Florence) Stevens (now known as Flora Harris), who had disappeared from Monticello, NY, on Aug. 3, 1975.
Harris' husband had dropped her off at a Monticello, NY, hospital for a doctor's appointment, and when he returned to pick her up, she could not be found, according to a press release from the sheriff's office issued Wednesday and obtained by McKnight's Senior Living. Harris' husband died in 1985.
Her whereabouts had remained unknown to law enforcement for decades when on Sept. 15, the New York State Police contacted the sheriff's office regarding a cold case involving skeletal remains found in Orange County, NY. The remains roughly matched a description of Harris from her missing persons report.
The sheriff's office said it worked with local, state and federal agencies to search various databases to try to locate possible relatives of Harris so that a DNA sample could be obtained. Authorities were unable to locate any living relatives, but in the process of searching the databases, they discovered the Social Security connection.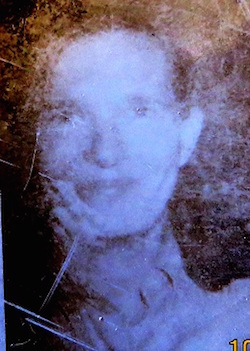 Detectives traveled to CareOne Tuesday to interview Harris, now 78, and confirm her identity. Although she has dementia, they said, she was able to recognize her photo ID from a job she held at the time she disappeared. The ID (pictured) had been part of the case file.
"It's an interesting case, and we're dealing with a really broken past," Norton said, adding that privacy laws prevented him from relaying much information about Harris other than what the sheriff's office said in its press release.
"Obviously, her past was news," he said, although it's not unusual for Medicaid beneficiaries from New York, such as Harris, to live in Massachusetts facilities.
"It is relatively common that some buildings that specialize in different things will work with other states to take difficult-to-place patients," he said.
Harris' care decisions are made by a guardian, and she was under a guardianship when she arrived at CareOne of Lowell, Norton said.
The sheriff's office described CareOne as an assisted living facility. On its website, CareOne of Lowell is described as a medical and neurorehabilitative care provider with a program focusing on the treatment of individuals with traumatic brain injuries, Huntington's disease and other neurologic disorders. Some CareOne facilities provide care for those with Alzheimer's disease and other forms of dementia.
The state of Massachusetts classifies CareOne of Lowell as a nursing home. According to Nursing Home Compare, the facility has 160 beds.
Harris' medical records go back about 30 years but are "sketchy" before that time, the sheriff's office said. She previously had spent time in a nursing home in New Hampshire and at a hospital in New York City, according to the office.
Norton said he is not surprised that it took years for authorities to connect the dots in the investigation.
"I'm not shocked at all," he said. "Two government agencies not talking to each other isn't overly surprising to me. She disappeared back in the 1970s. How good were computer records back then? They weren't [good]."
Hiring practices were different then, too, Norton noted. "There was no scanning people's Social Security numbers," he said.
Norton likened the lack of interoperability of law enforcement computers to that of the electronic health records systems used by various healthcare providers.
"I have a different medical records system than somebody else has," he has. "Just like police agencies. You just use whatever vendor or database that your district uses, and they don't necessarily all communicate with each other."
Although the sheriff's office considers the case officially closed now, despite the questions that remain — "The main thing is that we know that Flora is safe," Sullivan County Sheriff Mike Schiff said. — the press release issued by Schiff's office has generated "a ton" of media interest, Norton said Friday.
"Yesterday it was nuts," he said. "I've had two or three [interviews] this morning. A lot of people want to know more, and obviously, unfortunately, we're not able to say much."