January 08, 2018
Elder care workers in spotlight at Golden Globes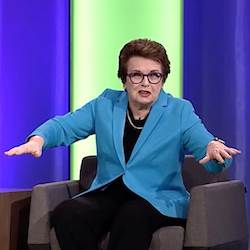 Billie Jean King makes a point during a "NIC Talk" at the 2016 National Investment Center for Seniors Housing & Care Fall Conference.
Advocates for professional caregivers, senior living and other causes shared the spotlight with members of the Hollywood elite at Sunday night's Golden Globe Awards, where eight actresses walked the red carpet paired with women activists.
Women as well as some men were clad in black in a sign of solidarity to bring attention to issues of gender inequality and sexual harassment and assault in the workplace as part of a recently announced "Time's Up" movement. The state of affairs in the entertainment and other industries has grabbed headlines since October.
"Too much of the recent press attention has been focused on perpetrators and does not adequately address the systematic nature of violence including the importance of race, ethnicity and economic status in sexual violence and other forms of violence against women," the group of activists said in a joint statement released before the awards show. "Our goal in attending the Golden Globes is to shift the focus back to survivors and on systemic, lasting solutions."
Ai-Jen Poo attended the event with Meryl Streep, who was nominated for an award in the Best Actress, Drama, category. The co-director of Caring Across Generations and executive director of the National Domestic Workers Alliance sent out periodic updates from her Twitter account on Sunday. The former organization advocates for professional and family caregivers and the older adults and those with disabilities for whom they care. The latter advocates for elder care workers, nannies and housekeepers.
Billie Jean King walked the red carpet with actress Emma Stone, who was nominated in the Best Actress, Musical or Comedy, category for her portrayal of the tennis legend in the film "Battle of the Sexes."
King is a spokesperson and "well-being coach" for Atria Senior Living, although she was not participating at the event in that role. A longtime advocate for social justice and equality, King founded the non-profit Billie Jean King Leadership Initiative in 2014 to address issues related to diversity and inclusive leadership in the workforce. Previously, in 1974, she had started the Women's Sports Foundation to advance the lives of women and girls through greater access to sports and physical activity and to protect the sports-related provisions of Title IX.
"I think it's one step at a time. Every generation has to fight for equality, and it's now Emma's turn with her generation," she said on the red carpet. "And it's great to be here tonight wearing black. We really have to — it's got to stop. It's got to stop now. And we have to help each other, and it's everybody, all genders together."
Actresses Susan Sarandon, Amy Poehler, Emma Watson, Michelle Williams, Laura Dern and Shailene Woodley also were accompanied by women activists at the pre-awards show festivities.