October 26, 2015
$25 million Palace Gardens opens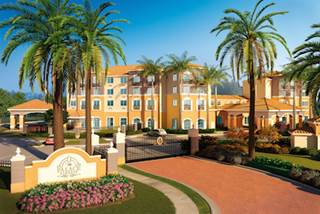 The exterior of The Palace Gardens
Owners Helen and Jacob Shaham celebrated the opening of the 10th Palace Group senior living community in September. The Palace Gardens, a $25 million project in the heart of Homestead, FL, is a four-story, Mediterranean-style assisted living community with a separate wing for memory care.
The Palace Group is known for having designed and built the Palace Coral Gables, inspired by the George V Hotel of Paris. It offers 240 one- and two-bedroom residences as well as penthouses for independent living, with a separate assisted living floor for those needing special services and care. The community has won awards from the National Association of Home Builders.
The Palace Group's portfolio also contains the Palace Suites, Royale and Renaissance and Palace Nursing and Rehab in the Kendall area, as well as Homestead Manor in Homestead, The Palace at Weston and continuing care retirement community in the Shaham's native Israel.