December 22, 2015
Assisted living community sells for $37 million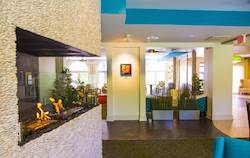 The lobby of Sunnycrest.
Sunnycrest, an assisted living community in Orange County, CA, has sold for $37 million, or $284,615 per unit.
The community features 91 assisted living studios and 39 assisted living suites, for a total of 130 units, all of which are 100% private pay. Each unit features private bathrooms, modern finishes and private balconies. The community also has a newly renovated lobby and common spaces, a koi pond and an expansive courtyard, and views and access to adjacent horse trails, where residents can feed and interact with the animals.
Orange County is the sixth largest county in the United States and experienced growth of 45% in the 85 and older age demographic between the 2000 and 2010 census.
"Sunnycrest's ideal location, proximity to superb healthcare, and 100% private payer mix offered an opportunity to own a stabilized asset in the heart of Southern California," said Jeremy Stroiman, CEO at Evans Senior Investments, a senior housing investment banking firm. Evans Senior Investments has worked with more than 500 senior housing businesses, spanning independent living, assisted living and skilled nursing, in all 50 states.