October 09, 2015
Avanti Senior Living announces two appointments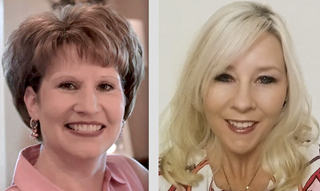 Angela Copeland, left, and Jeanette McMackin
Avanti Senior Living has announced two new hires for Avanti Senior Living at Vision Park, which is under construction in Shenandoah, TX, and due to open in the spring.
Angela Copeland has been named senior executive director and Jeanette McMackin has been named community relations director. Both have more than 20 years of experience.
Copeland "has strong mentoring skills that will assist her in leading our team and will help her to maintain high staff morale," said Tim Hekker, CEO of Avanti Senior Living. "In addition, she will oversee operations to ensure that the community is in compliance with state and federal regulations."
"I am eager to help Avanti become a change agent in senior living by redefining the lifestyle available to residents at Avanti Senior Living at Vision Park," Copeland said.
McMackin said: "I am eager to work for an innovative company with a team that thinks outside-of-the-box with the goal of fundamentally improving the lives of seniors and the communities in which they live."