September 08, 2015
Barr named Employee of Distinction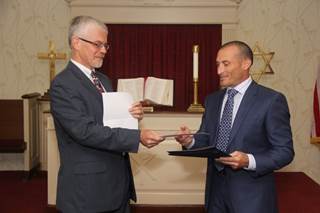 David Barr, right, receives a certificate from New York Sen. Toby A. Stavisky. (Photo: Marcus Colon)
David Barr, director of operations for Flushing House, received the Employee of Distinction Award from LeadingAge New York on Aug. 13.
LeadingAge New York Executive Vice President Dan Heim presented the award, a legislative resolution and a $100 check to Barr. New York Sen. Toby Ann Stavisky also attended and presented a certificate of merit to Barr, and Melinda Katz, Queens Borough president, also sent a certificate of honor.
The award recognizes the extraordinary dedication of front-line staff from member facilities. Barr joined Flushing House in 2003 and now oversees day-to-day operations, supervises managers and staff members and interacts with outside contractors.
Built in 1974, Flushing House is the largest, not-for-profit, independent living retirement community in the state of New York, according to LeadingAge New York.