October 01, 2015
Berkadia closes $10 million loan for affordable seniors housing property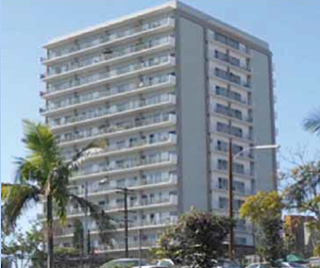 Grace Tower
Berkadia recently closed a $10 million, 40-year, fixed rate loan for Grace Tower, an affordable seniors housing property located in San Diego, through the U.S. Department of Housing and Urban Development's Section 221(d)(4) program.
Grace Tower is one of 12 projects nationwide selected by HUD to receive Senior Preservation Rental Assistance Contract funding for eligible seniors housing residents. The purpose of this assistance is to prevent the displacement of currently unassisted income-eligible seniors housing residents living in Section 202 Direct Loan projects.
HUD provided Grace Tower with a 20-year term of senior preservation rental funding. HUD's final, annual SPRAC award was determined by a market rent comparability study and the individual resident's rent contribution. One hundred and forty-five seniors housing units were deemed eligible by HUD for SPRAC assistance.
The borrower, Grace Tower, Inc., a California nonprofit entity, will use the construction financing to rehabilitate the property over 12 months. Falkenberg/Gilliam & Associates, Inc. is the project management agent.
Built in 1967, Grace Tower is fully occupied. The 15-story property consists of 168 units and features studio and one-bedroom floor plans. Twenty units will continue to receive Section 8 project-based rental assistance. Community amenities include a recreational and billiard room, a library and patio with a gazebo. The property is situated about three miles northeast of downtown San Diego.