September 14, 2015
Brookdale finalizing $7.4 million memory care expansion in Ohio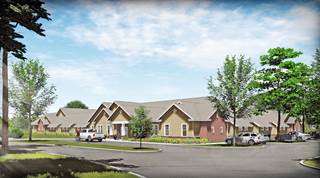 An artist's illustration of the exterior of Brookdale Wooster.
Brookdale expects its $7.4 million memory care expansion in Wooster, Ohio, to be completed in the fall. The expansion includes a new one-story, 27,000-square-foot building that will offer Clare Bridge, Brookdale's person-centered program for those with Alzheimer's disease and other dementias.
"When new residents move in, we learn as much as possible about their life stories," Kelly Scott, vice president of dementia care for Brookdale, said in a statement. "We design activities that meet their interests, stir their memories and match their current abilities so they can be successful in their daily lives. This provides our residents with a sense of purpose and accomplishment that raises self-esteem. In making sure the memory-impaired have daily moments of success, we can ward off the depression that often accompanies dementia and can aggravate its symptoms."
The new community will offer workshops and areas of discovery to enable residents to participate in familiar routines that evoke memories, such as household activities. Art, music and movement programs will be designed to provide creative energy and pleasure. Exercise programming also will be offered, and the community is designed to provide residents with safe, secure access to walking areas, courtyards and gardens.
Brookdale Wooster already offered 11 memory care apartments and 36 assisted living apartments. When Clare Bridge opens, memory care residents will move there, and Brookdale Wooster's current building will be dedicated entirely to assisted living. As part of this transition, $500,000 is being invested in renovating and enhancing that structure.
The company is seeking to fill 30 healthcare, managerial, culinary, maintenance and positions in relation to the opening.