December 08, 2015
CCRC being built next to Georgia college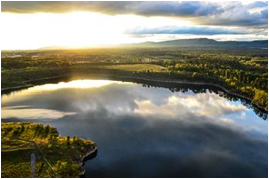 The Berry College CCRC site, at bottom left, overlooks an 88-acre lake.
A new continuing care retirement / life plan community will be built on undeveloped land adjacent to the 27,000-acre campus of Berry College in Rome, GA, the college has announced.
The as-yet unnamed CCRC, opening in 2019, will overlook an 88-acre lake, with unobstructed views of Lavender Mountain. It will feature 150 apartment homes and cottages and offer a full complement of healthcare and supportive services and amenities.
"The natural beauty, recreational opportunities, historic sites and exceptional healthcare make Rome an ideal area for retirees," said Alexander Whitaker, Berry College chief of staff. "For years we have had requests from alumni and residents to create a community near campus. There is great excitement that we are able to do this on such a stunningly beautiful site, connected so closely to our main campus and to Rome."
Residents will have access to the cultural, athletic and academic offerings of Berry College, as well as access to more than 60 miles of hiking, biking and running trails.
"The relationship between the college and CCRC is wonderfully complementary, as it will allow different generations to enjoy and serve one another," said Stephen Briggs, Ph.D., president of the educational institution. "And both the retirement community and Berry will be richer for it."