September 08, 2016
Forbes Cloud 100 list features familiar names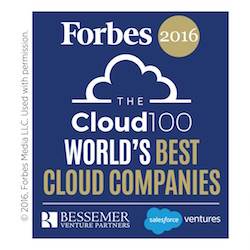 Forbes Cloud 100 list features familiar names
The inaugural Forbes Cloud 100 list of the top private cloud-computing companies in the world features several companies familiar to those in seniors housing and long-term care.
Real estate technology provider Yardi has the No. 27 spot on list.
Multisite property management technology company SMS Assist: 32.
Healthcare information technology company Ability Network: 46.
Senior care software company PointClickCare: 47.
Healthcare data warehousing, analytics and outcomes improvement company Health Catalyst: 59
Healthcare analytics company MedeAnalytics: 97
The list was developed in partnership with Bessemer Venture Partners and will appear in the Oct. 4 issue of Forbes.
"These are the companies to watch," said Byron Deeter, a partner at Bessemer Venture Partners. "The Forbes Cloud 100 companies represent the very best private companies in cloud computing. We will see big initial public offerings and category killers emerge from this list as the cloud computing continues to propel the trillion-dollar software industry."
Forbes and Bessemer received hundreds of submissions to help them identify the most promising private companies in cloud computing. Listees were selected by a panel of judges representing leading public cloud companies, using qualitative and quantitative data submitted by nominees along with publicly available third-party data sources.
The list also profiles 20 "rising stars" in the areas of software, cloud security and platform development.
All honorees were recognized at a Sept. 1 awards dinner in San Francisco hosted by Forbes, Bessemer Venture Partners and Salesforce Ventures.