August 19, 2016
Industry news, Aug. 19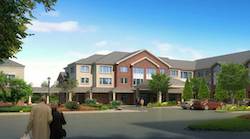 An artist's rendering of Brookdale Chatfield.
Brookdale Chatfield plans $26.6 million project
A Brookdale Senior Living community in Connecticut said it will invest $26.6 million in its facility to address the growing demand for senior care in the state.
Brookdale Chatfield's expansion project will add 50 assisted living apartments and 34 memory care units to the existing facility. The entrance to the community's independent living apartment building also will be renovated.
"We are expanding our services so we can serve more seniors and provide a greater range of services," said Rose Thomason, executive director of Brookdale Chatfield. "As our residents' needs change, they will still have access to care at the community they call home."
Approximately 74,000 Connecticut residents have Alzheimer's or another form of dementia, according to the Alzheimer's Association, which estimates that this figure will reach 91,000 by 2025.
The Claiborne Senior Living Center coming to Augusta
CR Properties has announced plans to develop a new senior living community in Augusta, GA.
The Claiborne is expected to have at least 100 units, approximately 70 of which will be used for assisted living residences featuring two-bedroom, one-bedroom and studio suite configurations. A 34-suite memory care support facility also will be part of the community.
A library, theater, salon and multiple fitness and rehabilitation rooms will be among the community's amenities, along with several common areas. Residents also will have access to customized care plans and around-the-clock nursing care.
The Claiborne will be managed by Blake Management Group, which operates facilities in Alabama, Louisiana, Mississippi, South Carolina and Tennessee.
The facility is expected to create at least 80 new jobs for the local community.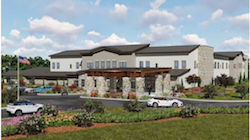 TNRG and MedCore Partners announce development plans
The National Realty Group and MedCore Partners have begun construction on a new assisted living and memory care facility in Cypress, TX.
Spring Cypress Assisted Living and Memory Care will have 65 assisted living units and 15 private memory care rooms. Residence configurations will include two-bedroom, one-bedroom and studio-style units.
A fitness center, walking path, gazebo, theater, beauty shop and many more amenities will be part of the community.
Civitas Senior Living will manage the community.
Trilogy earns workplace recognition
Trilogy Health Services once again has been named a Best Place to Work in Kentucky, marking the ninth consecutive year the company has received the recognition.
Trilogy was one of 100 companies throughout the state that received the honor this year. Employing more than 500 workers, the company was acknowledged among 30 other "large" business.
"Receiving this prestigious recognition for the ninth year in a row is a tribute to our servant leadership culture and the many great employees that embrace the Trilogy values throughout our organization," said Randy Bufford, CEO and president of Trilogy. "We are honored to be recognized as a Best Place to Work in Kentucky."
Companies are recognized by The Best Places to Work program based on the results an evaluation of an employer-submitted application that discloses details on the company's policies, practices, benefits and demographics. Responses from employee satisfaction surveys are also factored in to the program's decision
Trilogy offers independent and assisted living, skilled nursing and rehabilitative services in 100 senior living communities. The company operates locations throughout Indiana, Kentucky, Michigan and Ohio.
Village at Rockville earns care accreditation
A National Lutheran Communities and Services community in Maryland has received a national accreditation for the continually assessment of care quality within its facility.
The Village at Rockville received the Basic Quality Assurance and Performance Improvement Accreditation after an independent accreditor, Providigm, evaluated the community' care procedures against federal regulations and standards.
"The Village at Rockville is an excellent example of a continuing care retirement community taking initiative to proactively identify and correct quality concerns," said Andrew Kramer, MD, chief executive officer at Providigm. "Their commendable use of the abaqis Quality Management System ensures that they are constantly monitoring important quality of care and life issues for their residents and guests."
TVAR offers independent and short-term living accommodations, along with outpatient rehabilitation services. The community also provides residents with respite, hospice and a wide variety of other medical services.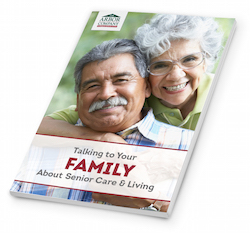 Arbor releases two senior care conversation guides
The Arbor Co. has published two new books to assist families with sensitive and potentially challenging conversations about senior care.
"Talking to Your Parent About Senior Care and Living" and "Talking to Your Family About Senior Care and Living" offer guidance to older adults and their children about how address several preconceived ideas, fears and financial concerns associated with long-term care. The e-books feature sections on understanding the facts of senior living, strategies on how to have care-related conversations and several other topics.
"Conversations about senior living can stir strong emotions for both seniors and their adult children," said Chris Harper, the company's director of communications. "However, these conversations can lead to decisions that sometimes must be made. Our e-books provide guidance to help families better navigate the decision-making process."
A free download of the guides is available on the company's website.
The Arbor Co. operates more than 28 independent living, assisted living and memory care communities in 11 states. The company has more than 30 years of experience in the long-term care industry.
Buckner announces fitness provider
Buckner International has selected a fitness equipment provider Technogym to outfit its newest life care community in Dallas.
The future residents at Ventana by Buckner will have access to the fitness company's cutting-edge technology, including machines designed to be easy to use, cloud-based monitoring systems and a wide variety of health and wellness programs.
"Technogym aims to create a fitness environment that is both engaging and motivating to each individual user — including comprehensive methods for healthy aging," said Nerio Alessandri, the company's founder. "Human muscle strength reaches its peak between the second and third decades, shows a slow or imperceptible decrease until about 50 years of age and begins to decline thereafter at the rate of approximately 12% to 15% per decade, with more rapid losses above the age of 65. Therefore, a well-designed strength program becomes a crucial part of any training session."
Technogym supplies equipment to more than 100 counties and has technology in some of the world's largest facilities. The company also was named the exclusive supplier of the Rio 2016 Olympics.
Ventana by Buckner is scheduled to open in 2018.
Aldersgate to implement new workforce management system
Aldersgate Healthcare has selected a line of SmartLinx Solutions products to fulfill its workforce management needs.
The Florida-based healthcare organization will now use WorkLinx to manage the operational costs of its facilities. Members of Aldersgate said SmartLink's software provided a solution that effectively addressed the company's needs.
"Operating as a nonprofit organization, our goal is to manage without compromising our quality of care. Our previous payroll system was rigid and unable to help us manage ongoing compliance issues, including ACA Form 1095-C and payroll based journal reporting," said Billy Conol, director of accounting for Aldersgate.
SmartLinx Solutions is an award-winning provider for real-time workforce management solutions. The company serves global clients with softwares geared toward staff schedule optimization, human resources, payroll, business analytics and several other areas within a business setting.
Wentworth Senior Living announces new partnership
Portsmouth, NH-based Wentworth Senior Living will use Calypso Communications to handle its communications needs.
"We're thrilled to be working with the Calypso team to enhance awareness of senior needs, both for our residents and local citizens," said Bill Henson, Wentworth president and CEO.
Calypso is will now handle messaging, integrated public and media relations and informative web content for the community. The company also is responsible for Wentworth's newly redesigned website, which now features a user-friendly interface for the community's residents and a new digital magazine for news related to senior living.
Calypso is an award-winning strategic marketing, corporate communications and business development consultancy.