July 28, 2016
Industry News, July 28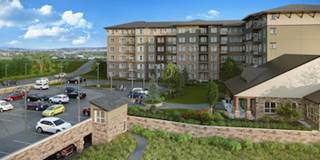 An artist's rendering shows Longs Ridge at Wind Crest.
Wind Crest adds fourth residence building
A $33.2 million construction project has begun on a new residence building at Wind Crest retirement community, a Erickson Living community, in Highlands Ranch, CO.
Sitting on the edge of the Rocky Mountains, Longs Ridge will be a 99-room apartment building with a variety of one-bedroom and two-bedroom floor plans. All of the apartments will include wood floors, granite countertops and stainless steel appliances.
Residents in the building also will have access to sitting and meeting areas, classrooms and patios for enjoying mountain views with friends. A parking structure also will be built for the facility.
Longs Ridge is the fourth building to be added at the retirement community in the past three years. The residence is expected to open in summer 2017.
Sun Health selects new insurance provider
Sun Health Senior Living has paired with Aetna Better Health to provide its a new bundled medical plan to its employees.
Under the plan, the organization's 550 employees are expected to see reductions in doctor and prescription copayments, while lowering premiums and deductibles. The plan also cut single coverage rates for employees by nearly 50%.
"These new changes have enabled us to provide richer benefits to our employees," said Tahlya Visintainer, Sun Health Senior Living's vice president of human resources and organizational development.
Aetna's Whole Health – Banner Health Network plan bundles all of Sun Health Senior Living leaders' insurance pieces into one group in an effort to create additional benefits for employees.
"With Aetna Whole Health and Banner Health Networks, our employees are paying less out of pocket, and they're benefiting from a focus on preventive care that's well-coordinated through Banner Health's large network," Visintainer said.
Elior acquires meal provider
Elior Group has acquired Preferred Meals, an Illinois-based meal provider that serves more than 130 million meals annually in 30 states across the country.
"This acquisition is part of the company's 2016-2020 strategic plan to accelerate development within growing markets," said Philippe Salle, Elior Group's chairman and CEO. "The U.S. contract catering market offers significant opportunities, notably in the four niche segments in which we are currently positioned: the corrections, education, healthcare including seniors and premium business and industries. We intend to continue to expand there both organically and through acquisitions, and Preferred Meals fits perfectly into this strategy."
The acquisition will add six strategically located production kitchens and 13 distribution centers, providing Elior with an opportunity to reach a broader clientele.
Preferred Meals will operate under its current brand as part of the Elior and will be led by George Chivari, its current president and CEO. The company's 1,600 employees will retain their positions.
Capital One closes $65 million acquisition deal
Capital One has closed a $65 million loan to support the acquisition of the New York-based National Home Health Care Corp. by Blue Wolf Capital.
The NHHC provides a wide variety of healthcare services throughout the Northeast and employees more than 4,600 employees. Home health aides, personal care workers, behavioral health and pediatric skilled nursing and several other staffing services also are offered by the company.
The company will now be managed by Blue Wolf Capital, a private equity firm also based in New York.
"NHHC provides outstanding service in a vital healthcare sector, and we believe this transaction will help take the company to the next level of growth," said Jeremy Kogler, Principal of Blue Wolf. "We anticipate growing demand for NHHC's broad range of skilled professionals, and we look forward to working with the NHHC team."
Capital One served as the administrative agent and lead bookrunner for the loan. With clientele throughout the healthcare industry, the financial service provider offers finance acquisitions, debt financing and funding support for growth initiatives.