February 17, 2016
Kansas City CCRC plans major redesign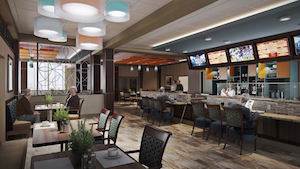 First-floor amenities will include a new bistro dining venue, convenience store and library.
Kingswood Senior Living Community, a Kansas City, MO, continuing care retirement / life plan community, broke ground Feb. 17 on a $34.7 million redesign and expansion project designed to meet the evolving needs of current and prospective residents.
"The intent of these changes is to stay ahead of the expectations curve of our current and future residents and the increased demand for memory care and assisted living services," said Terri Moore, Kingswood executive director. "In addition to redesigning our community, we're repositioning Kingswood as the modern alternative in senior living with a sharpened focus on delivering services that seniors will increasingly need."
Plans include a major overhaul of the clubhouse. The main lobby will be completely refurbished, and first-floor amenities will include a new bistro dining venue, convenience store and library. The second floor will be updated with new interior décor, accessibility improvements in dining areas and new rooftop terrace dining. The second floor also will feature a new art studio, a movie theatre and a performing arts center with a Steinway grand piano.
One of four apartment buildings on the property will undergo a significant redesign to keep pace with new and future residents' assisted living and memory care needs. Kingswood plans to convert 47 independent living apartments on three floors of the building into 30 assisted living residences and 23 memory care suites. The conversion will feature new dining areas, activity rooms, a beauty salon and more common areas for residents to gather or greet outside guests. Construction is expected to be complete in the fall.
Residents' health and fitness will increase as a priority at Kingswood with the addition of new and expanded offerings at the community's wellness center, Moore said. New suites will be added for physical therapy and occupational therapy, cardiovascular and strength training, group fitness activities, wellness classes and spa treatments. The spa will be part of a new, high-end salon. The entrance to the community's zero-entry swimming pool will be adapted for increased accessibility. Kingswood's redesign plan also includes an on-site clinic that would serve as a future one-stop shop for residents' medications and visits with nurse practitioners and doctors.
Kingswood recently acquired land adjacent to the campus on which it plans to build 11 new 1,500- to 1,800- square-foot villas, increasing the villa total to 65. The villas offer independent living in maintenance-free single-dwelling and duplex homes consisting of two-bedroom floor plans with attached two-car garages and basements, which could be finished by residents to significantly increase their living space. Villa residents select their choice of cabinets, countertops, flooring, interior paint colors and other interior finishes, and they can add porches and decks to fit their lifestyles. Pre-sales for the new villas begin this month.
Independent living also is offered in apartment homes, with more than 20 different floor plans. Studio, one- and two-bedroom style apartments are available. A new marketing suite, resident selections gallery and furnished model apartment also are part of the project.
The Kingswood redesign is a collaboration led by LCS Development. The project team assembled by LCS Development includes Paric Construction, AG Architecture, AMAI Architecture, Spellman Brady and Company interior design and Cain Brothers. Cain Brothers has been a long-term capital access consultant for Kingswood, most recently leading the finance working group to assist Kingswood to close the financing for the redesign project on Jan. 6.
Many phases of the project will be completed this year, with the final project expected to be finished in April 2017.