April 06, 2016
Kingswood benefits from $51.8 million bond issue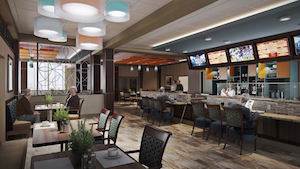 First-floor amenities will include a new bistro dining venue, convenience store and library.
Kingswood Senior Living Community, a fully licensed continuing care retirement community, or life plan community, in Kansas City, MO, recently was the beneficiary of the underwriting of $51.8 million of Kansas City Industrial Development Authority Senior Living Facilities Revenue Bonds Series 2016 by New York City-based Cain Brothers.
The CCRC has been in operation since 1982 and currently is managed by Life Care Services. The bonds were structured as non-rated, long-term, fixed-rate bonds, and proceeds were used to recapitalize Kingswood's balance sheet, fund a campus repositioning program and refinance debt.
Kingswood was faced with persistent systematic operating and financial challenges that led to years of underfunding capital improvements to its campus, according to Cain Brothers. About 40% of its independent living apartments were obsolete and difficult to market, and the community lacked memory care offerings on campus and had only 14 units of assisted living, the investment bank said. Also, it added, curb appeal was poor, and Kingswood had difficulty filling its 82-bed skilled nursing facility.
Kingswood was in violation of several financial covenants, had very limited liquidity and very little new debt capacity for capital access, Cain Brothers said, but over several years, the company helped the CCRC assemble a development team, which included LCS Development, to reposition the campus and turn around finances to ensure long-term sustainability. As a result, most the space occupied by the 80 unmarketable apartments was converted into 30 new assisted living units and 23 new memory care units, and the remaining units will be renovated. Common areas throughout the campus were updated and now include a new bistro, a new entryway, a new multipurpose room and numerous infrastructure changes.
Cain Brothers said it secured $2 million in mezzanine capital needed for the development plan, fund entry fee refund obligations and capital expenses. The investment bank then delivered $51,770,000 in permanent, which consisted of 35-year, non-rated fixed rate bonds that were sold at a rate of 6%, despite the issuer's marketing limitation that the bonds be sold exclusively to qualified institutional buyers. The financing enabled Kingswood to fund its repositioning plan, bolster its credit metrics and position itself for the future, Cain Brothers said.