October 28, 2015
LeadingAge's Larry Minnix named a top Influencer in Aging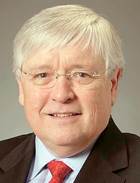 Larry Minnix
LeadingAge President and CEO Larry Minnix has been named to Next Avenue's 2015 list of top Influencers in Aging.
"These 50 thought leaders, innovators, writers, advocates, experts and others are changing how we age and think about aging," according to the national public media service.
Next Avenue notes the three-plus decades that Minnix has spent advocating for better services for the aging, including 15 years in his current position at LeadingAge, from which he is retiring at the end of the year, and 28 years at Wesley Woods, an elder services agency in Atlanta where he started as an intern and ended as CEO.
Several others on the list also will be familiar to readers of McKnight's Senior Living. Among them:
Atul Gawande, M.D., M.P.H., was named Influencer of the Year. The practicing surgeon, staff writer for The New Yorker and associate professor at Harvard Medical School will be speaking at this year's LeadingAge annual meeting. He also spoke at the organization's 2012 meeting.

Dan Buettner was a speaker at the 2013 LeadingAge annual meeting. Then, he shared nine secrets to longevity that he had discovered with the help of scientists while researching "blue zones," areas around the world that have the highest concentrations of people who had reached at least 100 years old.

Glen Campbell is the subject of "Glen Campbell: I'll Be Me," a documentary about Campbell's battle with Alzheimer's disease, which had a gala premiere at LeadingAge's 2014 annual meeting.

Laura L. Carstensen, Ph.D., a professor, author and founder of the Stanford Center for Longevity, was featured in an Oct. 19 McKnight's Senior Living article covering the keynote speech she gave about overcoming misconceptions related to aging at the National Academy of Medicine's annual meeting.

Sen. Susan Collins (R-ME) chairs the Senate Special Committee on Aging. As an Oct. 6 McKnight's Senior Living article mentioned, the National Center for Assisted Living is working with her office and the offices of the three other senators who requested that the Government Accounting Office review Medicaid spending and federal and state oversight of care provided to Medicaid beneficiaries who live in assisted living communities.
Joseph F. Coughlin, Ph.D., director of the MIT AgeLab, will be a judge at the upcoming LeadingAge HackFest, held in conjunction with the organization's annual meeting, and will speak at a general session of the meeting, too. He also spoke at the group's 2012 meeting.

Nora Super, executive director of the White House Conference on Aging, recently was on a panel with Assisted Living Federation of America/Argentum President and CEO James Balda. They discussed issues related to professional and family caregiving at Genworth's annual symposium on long-term care.

Bill Thomas, M.D., author, speaker and founder of ChangingAging.org and the Green House Project, recently delivered a NIC Talk at the National Investment Center for Seniors Housing and Care annual conference.
The entire list, with more information about each honoree, is available online.