April 06, 2016
LeVine named Medical Director of Year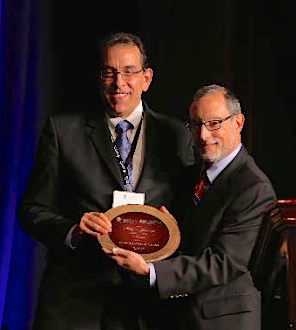 Paul Katz, M.D., C.M.D., right, presents David LeVine, M.D., C.M.D., with his honor.
David LeVine, M.D., C.M.D., medical director of Menorah Manor in St. Petersburg, FL, has been named 2016 Medical Director of the Year by the Foundation for Post-Acute and Long-Term Care Medicine. He accepted the award from the foundation's chairman, Paul Katz, M.D., C.M.D., at a general session during the society's 2016 annual conference in March.
Menorah Manor offers assisted living, skilled nursing and rehabilitation.
"I love what I do," LeVine said. He noted that he was considered a "black sheep" in a family where his father and two brothers were surgeons but said he has never regretted his career choice. Acknowledging that the health of the people for whom he cares often doesn't improve, he said he is honored to provide the best possible care and quality of life for residents in this most vulnerable phase of their lives.
Among his many accomplishments, LeVine:
Developed and supervises a clinical credentialing process and cultivated a large private medical staff.
Is active in medical staff recruitment, oversight, education and retention — including developing relationships with specialists such as psychiatrists and dentists.
Leads a team of geriatric professionals that provides comprehensive outpatient assessments of individuals experiencing memory and/or behavioral changes.
Provides staff education on topics such as dementia, end-of-life issues, palliative care, and ethics.
Is clinical preceptor for the Menorah Manor geriatric rotation.
Conducts individual staff coaching.
Has been known to entertain residents and staff with song and dance.
The Medical Director of the Year award, established in 2007, recognizes medical directors deemed to have set an outstanding example of what the physician-leader in post-acute/long-term care can accomplish with knowledge, experience, passion and teamwork, as well as the ability to multitask, stay abreast of clinical and quality improvement innovations and lead communities in providing quality care.