November 12, 2015
Mainstreet, Ensign celebrate Healthcare Resort opening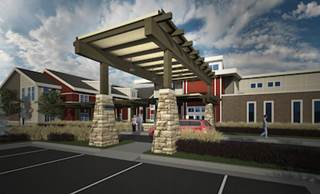 An artist's rendering of the Healthcare Resort of Kansas City.
Mainstreet opened its first transitional care center in Kansas, the Healthcare Resort of Kansas City, Oct. 22. The property provides assisted living and transitional care (short-stay rehabilitation and therapy).
"With our innovative design and hospitality-oriented care, we are transforming the way healthcare is delivered and are giving aging Americans nationwide the care and services they deserve," said Zeke Turner, founder and CEO of Mainstreet.
Construction started on the Healthcare Resort of Kansas City in April 2014 and was completed in September of this year. Mainstreet developed the property, and Ensign operates it. The grand opening was a first for the two companies.
With 100 beds and 71,626 square feet, the Healthcare Resort of Kansas City has amenities such as a large therapy gym, an outdoor rehabilitation courtyard, a putting green, a spa, a movie theatre, an on-site chef and more. The project represents a total community investment of $15.5 million and created 350 construction jobs as well as 90 permanent jobs at the property itself.