November 30, 2015
Mustang Creek Estates of Burleson breaks ground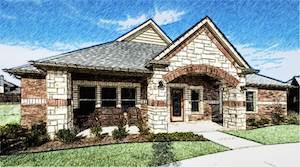 An exterior rendering of Mustang Creek Estates of Burleson (courtesy of Creative Architects).
Ground recently was broken for Mustang Creek Estates of Burleson in Texas, a $7 million, 42,000-square-foot assisted living and memory care community that will be designed to resemble a neighborhood. The senior living community is scheduled to open in summer 2016.
Each of the community's six homes will house up to 15 seniors. The focal point of each home will be an open kitchen, where residents will be able to see their food being prepared from scratch and smell the aromas of home-cooked meals. Residents will receive personal assisted care and be able to participate in daily activities in their home and in other homes throughout the community. The schedule will be flexible to allow residents to continue living as they did in their own homes and at an affordable price.
"Our community is like no other assisted living community in Burleson, and we continue to see our residents in Allen, Keller and Frisco positively impacted by the personalized style of care that we offer," said Renee Ramsey, cofounder and CEO of Mustang Creek Estates. "Our model of senior living puts the residents' needs first and provides a caring, supportive, intimate environment in which to spend their time. Because we operate within smaller homes, our caregivers can anticipate and respond to the resident's needs on a more personal level, just like a family member would."
The community will sit on just more than seven acres of land. It was designed by civil engineer Joseph E. Helmberger of Kimley-Horn, a design consulting firm. The community's architect is Scott Roberts of Creative Architects.