July 19, 2016
NCAL names four award winners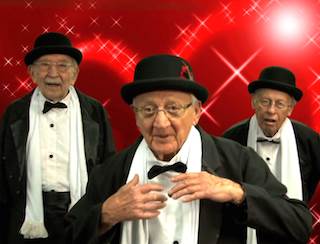 Residents of Brandywine Senior Living Princeton perform to Maroon 5's "Sugar."
The National Center for Assisted Living announced the recipients of its 2016 awards on Tuesday.
Four categories recognize work deemed to have been exceptional in the assisted living industry. Awards will be presented Oct. 16 at a ceremony during the 10th Annual NCAL Day, held as part of the 67th Annual AHCA/NCAL Annual Convention & Expo.
Named Administrator of the Year is Carmy Jerome, executive director of the 40-resident Aspen House Memory Care Assisted Living in Loveland, CO.
Jerome is being recognized for her individualized approach to memory care, which seeks to include resident preferences and interests and considers medical intervention only as a last resort for those presenting with challenging behaviors. "The respect that Jerome has earned among her stuff is what has contributed to the community's 30% reduction in staff turnover," NCAL said. The organization's state affiliate, the Colorado Health Care Association, named her Administrator of the Year in 2014. She also is an at-large representative on the NCAL Board of Directors.
Named the Assisted Living Nurse of the Year is Stephanie Lavigne, residential care director of the 30-bed memory care assisted living community Machias Maine Veterans' Homes in Machias, ME.
She is credited with implementing evidence-based practices that have led to culture change, improved resident safety and increased resident and family satisfaction. Such practices included reducing the off-label use of antipsychotic medications; decreasing noises from alarms and call bell systems; offering more ambient lighting; and, with the nursing staff, providing residents with iPods with their favorite music and scheduling adult coloring classes in the afternoon, when many residents experience sundowning symptoms. In 2015, Maine Veterans' Home named her employee of the year.
Named Noble Caregiver in Assisted Living is Angela Humes, a certified nurse assistant and registered medication aide at Dogwood Village Senior Living in Orange, VA, where she has worked for 35 years.
Humes volunteers to take residents to their appointments, shopping or out for their birthdays on her days off. She often is asked to mentor new employees and consistently assumes responsibility to ensure that the best quality care practices are in place for residents, according to NCAL. "Dogwood Village says that when residents pass away, the community often receives notes from residents' loved ones, thanking Humes for going above," the organization said.
The National Assisted Living Week Program of the Year was carried out by Brandywine Senior Living Princeton, Princeton, NJ.
The community's observance of National Assisted Living Week for residents, using the week's 2015 theme of "Nourishing Life: Mind, Body and Spirit," included a Tai chi demonstration in the heart of downtown Princeton, an intergenerational event with first-grade students and baby farm animals, and wellness checkups with the community's nursing and therapy staff. The Brandywine community also brought in service dogs to demonstrate the benefits of pet therapy and a held fundraiser for the Princeton Parkinson's Alliance. Residents and staff members also participated in a video to the tune of Maroon 5's "Sugar," which was featured on the local news.
Watch the video below: