April 03, 2018
New lead-generation effort launches for senior living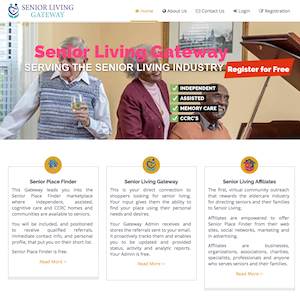 New lead-generation effort launches for senior living
A new platform has launched with the goal of helping to connect senior living communities and prospective residents looking for new places to live.
Among the platform's websites are Senior Living Gateway for marketing professionals and Senior Place Finder for potential residents and their families.
Senior Living Gateway is designed to collect and deliver qualified referrals, including prospective residents' personal profiles, to enable sales and marketing professionals to lead off their interactions with potential residents with information about how a community can provide solutions and services relevant to that individual, said Steve Fecske of The Senior Team Inc., the company behind the platform.
"The Senior Living Gateway will save sales and marketing professionals time, but even more importantly, it will set them up to be problem-solvers and advocates for their referred prospects," said Fecske, a former marketing director with Emeritus Senior Living and Brookdale Senior Living.
The online service, which includes a dashboard/administration function for providers, is intended for operators of active adult, 55+ independent living, assisted living or memory care communities as well as continuing care retirement communities, also known as life plan communities.
Companies that set up master accounts via the website are offered at no charge an unlimited number of subaccounts for their communities and their sales and marketing professionals. Leads are sent to the accounts. Operators pay a referral fee when someone using the consumer site, Senior Place Finder, moves in.
From the master account, companies can oversee all of the activity for the subaccounts and can also grant all communities / subaccounts the ability to oversee their own markets and referrals. Communities using subaccounts have the same reporting and analytic capabilities as those using the master account, but each subaccount is limited to a community and its local market. Communities also can access Senior Place Finder via Senior Living Gateway.
"It's a proactive system that doesn't stop after providing the qualified referral, but continues to track referrals and provide follow-up data to measure status, conversion ratios, time from start to finish and overall referral and shopping statistics, which we pass on to the marketing professionals in market and analytic reports," Fecske said.
A referral from Senior Place Finder includes the prospect's budget range, preferred location, care needs and other relevant information, such as veteran status and wartime service, chronic conditions and more.
"We get their permission to send their personal and contact information to those places that qualify by their needs and desires," Fecske said.
The platform also enables older adults and their families to connect to senior real estate specialists, VA claims specialists, elder care attorneys and bridge financing professionals, all in an effort to help older adults and their families overcome the barriers to moving into a senior living community.
The platform also includes Senior Living Affiliates — which facilitates rewards for entities and individuals that provide referrals — and SRES Club for senior real estate specialists and brokers.
For more information, see the Senior Living Gateway website.