April 19, 2017
People in the news, April 19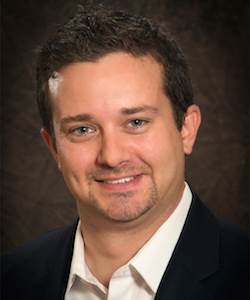 Gottfried Ernst
Gottfried Ernst named vice president of hospitality at Harbor Retirement Associates

Gottfried Ernst has been named vice president of hospitality at Harbor Retirement Associates, a regional senior living development and management company based in Vero Beach, FL.
He primarily will be responsible for designing, planning and implementing standards, policies and programs that positively affect the delivery of services to HRA's residents nationwide.
"As we continue to grow as an organization, hospitality and customer service are two areas we place a large amount of emphasis on," Tim Smick, CEO of Harbor Retirement Associates, said in a statement. "We believe that Gottfried is the perfect individual to help us to continue to excel and grow in those areas."
After obtaining a degree in hospitality management and tourism, Ernst worked at several four- and five-star hotels in Austria, Switzerland and the United Kingdom.
He began his career in the senior housing industry in 2001 at Brookdale Senior Living, where, over the past 15 years, he held both community and corporate leadership positions. Ernst progressed in conjunction with the company's growth to his role as vice president of dining services. Most recently, he led the dining services operations as part of Brookdale's Southeast Division, which includes 260 senior living communities. Ernst was inducted into Brookdale's President Circle in 2005. He also played a lead role in Brookdale's successful dining services systems integration of former Horizon Bay and Emeritus Senior Living communities nationwide.
Bob Eisenstein joins Northbridge Companies as an executive director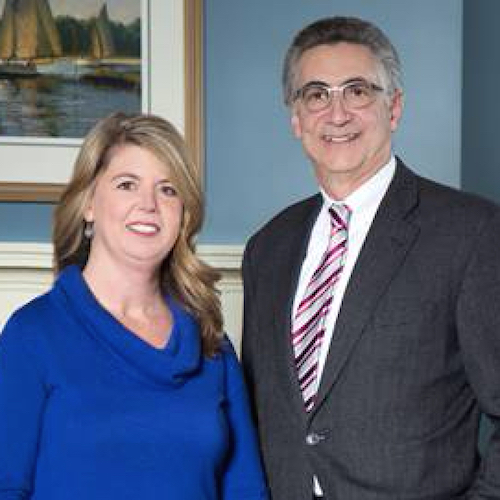 Bob Eisenstein (pictured, right) has been named executive director of Laurelwood at the Pinehills senior living community in Plymouth, MA, senior living developer Northbridge Companies announced.
Eisenstein has more than 25 years of experience in the senior living industry and joins with Executive Director Kristen Tucker (pictured, left) of Stafford Hill Assisted living to provide a complete continuum of senior care options to Greater Plymouth families, including independent living, assisted living and the specialized Avita memory care program.
Eisenstein has an undergraduate degree in psychology from George Washington University and master's degrees in social work and public health from Columbia University.
Rosalind Wright joins Ingleside at Rock Creek as director of health services
Rosalind Wright, DNP, RN-BC, RAC-CT, CNHA, fellow, has joined Ingleside at Rock Creek as director of health services.
Wright comes to the not-for-profit, CARF-accredited continuing care retirement community with more than 30 years of leadership, academic, clinical, health policy and management experience. Her background includes assisted living, memory care, acute care, long-term care and hospice care.
She will oversee the 60-bed licensed health center that provides secure memory care, short-term rehabilitation and long-term nursing care as a component of IRC's continuum of care. The health center also provides IRC's active independent living residents with as-needed nursing care. Admissions to the Five-Star center also may originate from the local community and are not limited to IRC residents.
Wright received her Bachelor of Science in Nursing degree from Coppin State University, a Master of Science in Nursing degree from the University of Maryland and a doctorate in nursing practice from the Johns Hopkins University School of Nursing.
SearStone hires new executive director, CFO and healthcare center administrator
SearStone in Cary, NC, has hired Vinson Bankoski as executive director, Jason Chautin as chief financial officer and James Souter as administrator of Brittany Place, the continuing care retirement community's healthcare center.
Bankoski previously worked at Erickson Living and Erickson Retirement Communities.
Vinson earned his undergraduate degree in hospitality management from Florida International University and a master's degree in aging, management and policy from the Erickson School of Aging Services at the University of Maryland. In addition to his professional career, Vinson has served on nonprofit boards supporting both aging services and the arts and also serves as an adjunct professor at the University of Maryland.
Chautin has more than 20 years of experience working for public and private companies, ranging from startups to Fortune 500 companies across many industries. His previous senior care work was with Sunrise Senior Living, where he was director of financial operations for the company's home care business, Sunrise At Home. Chautin received both his undergraduate degree in finance as well as his MBA from George Washington University.
Souter has been a nursing home administrator for five years and has practiced in both North Carolina and Georgia. He earned his undergraduate degree in finance at Georgia Southern University.
Russell Mitchell named executive director at Integrace Copper Ridge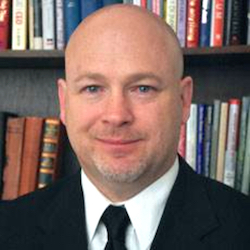 Russell L. "Rusty" Mitchell has been named the executive director at Integrace Copper Ridge in Sykesville, MD.
He formerly was the executive director at Willow Tree Healthcare Center in Charles Town, WV, and also had the same title at Wilora Lake HealthCare in Charlotte, NC, from 2001 to 2009.
Mitchell has held executive roles in Arizona, Virginia and Florida. He began his career as an administrator at Heritage Hall-Lexington in Kentucky.
Mitchell earned an undergraduate degree at Cumberland College and a master's degree at Nova Southeastern University in Florida.
Sheryl Alcorn receives Erickson Living's Leadership Award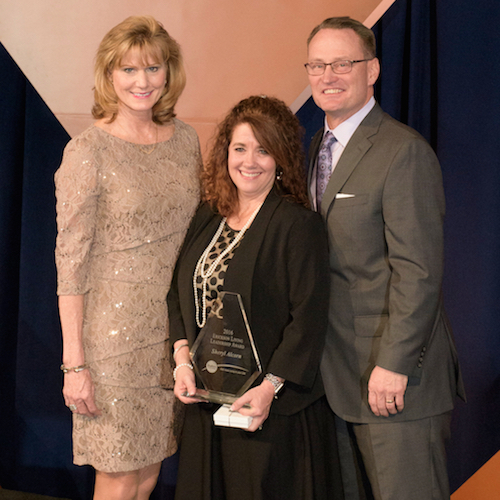 Sheryl Alcorn, regional director of practice administration at Wind Crest in Highlands Ranch, CO, received Erickson Living's 2016 Leadership Award at the company's annual meeting in Baltimore. (She is pictured, center, with Erickson Living Chief Operating Officer Debra Doyle, left, and Erickson Living Chief Executive Officer Alan Butler.)
The award recognizes Alcorn's management vision and ability to motivate and inspire the people around her to go beyond the call of duty, according to the company. Erickson said it also recognizes her daily demonstration of the company's values of respect and caring, diversity, friendliness and enthusiasm, integrity, responsibility, excellence and teamwork.
Alcorn attended travel school and worked in the hospitality industry for several years before becoming an executive assistant for a capital investment firm. She got her first taste of medical administration as the business manager of a large orthodontic practice. From there, she became the community outreach director for a local charter school, where she quickly advanced to the positions of director of operations and interim director, according to Erickson.
When she became a certified fitness instructor and a Zumba Instructor, she discovered her real passion for working with the elderly, enrolled in college and earned a degree in healthcare administration.
Alcorn previously held several positions at Covenant Village Senior Living and was an assisted living coordinator at Sunrise Senior Living. She joined Wind Crest as practice manager, then became practice administrator, then regional director of practice administration. She has had her nursing home administrator license since October 2013.
Joy Solomon recognized by Department of Justice
Joy Solomon, director and managing attorney of the Harry and Jeanette Weinberg Center for Elder Abuse Prevention at the Hebrew Home at Riverdale by RiverSpring Health, Riverdale, NY, received the National Crime Victim Service Award from the U.S. Department of Justice on April 7.
She was one of 12 individuals or organizations honored at the ceremony, which was hosted by the DOJ Office for Victims of Crime and capped off National Crime Victims Rights Week. Solomon was recognized for her leadership as co-founder of the center with Dan Reingold, president and CEO of RiverSpring Health, as well as for her years of service to victims as a prosecutor with the New York City District Attorney's. Reingold accepted the award on Solomon's behalf.
The Weinberg Center is the nation's first regional elder abuse shelter, providing emergency short-term housing, healthcare services, legal advocacy and case support services to victims.
Dirk Anjewierden, Greg Elliot to receive 2017 Joe Warner Awards from AHCA/NCAL
Dirk Anjewierden and Greg Elliot have been named 2017 Joe Warner Advocacy Award honorees and will receive their awards at the 2017 AHCA/NCAL Congressional Briefing in June.
Anjewierden is executive director of the Utah Health Care Association in Salt Lake City and acts as the key advocate for both state and federal issues affecting long-term and post-acute care in the state.
Elliot is a vice president at American Medical Facilities Management, based in West Virginia. He supports skilled nursing and assisted living providers both in West Virginia and in Washington, D.C.
Jefferson's Ferry's Patti Gallagher profiled in industry magazine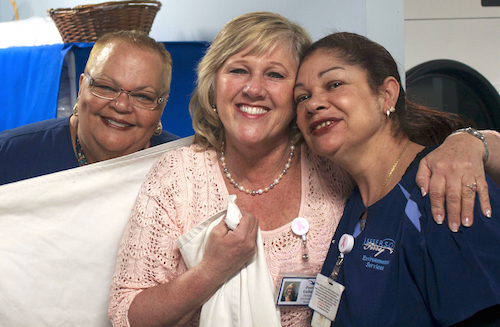 Patti Gallagher, director of housekeeping at life plan community Jefferson's Ferry in South Setauket, NY, was interviewed for and pictured on the cover of a recent issue of Executive Housekeeping Today. She was selected for the cover feature by the magazine's editor, whom she met while attending an accreditation program in her field.
(In the photo, Gallagher, center, shares a lighthearted moment with Myrna Moran, left, and Rita Vargas, two members of the housekeeping team. The women have worked in Jefferson's Ferry's housekeeping department for five and 15 years, respectively.)
Gallagher, who manages approximately a dozen housekeepers, first joined the Jefferson's Ferry housekeeping department as an entry-level housekeeper. A widow with two college-aged daughters, she was looking for a job with good benefits. Soon she was promoted to housekeeping lead, then to director of housekeeping. In that department, according to Jefferson's Ferry, turnover is low and morale is high.
"Patti's team does a phenomenal job, which is credit to her managerial skills," says Vice President of Hospitality Services Chris Adamo. "Her 'No Housekeeper Left Behind' policy, for example, provides additional support for housekeepers who have an unexpectedly heavy workload on a given day, so everyone gets to leave at the same time each day. This is just one way Patti makes all the housekeepers feel valued and part of a team."
Read the Executive Housekeeping Today article here.
Agustin Carrasco named Jefferson's Ferry Employee of Month, celebrates U.S. citizenship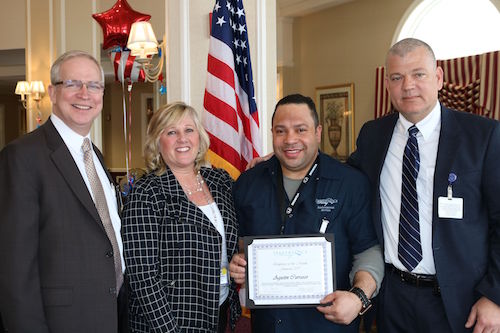 Agustin "Augie" Carrasco, a housekeeping employee at life plan community Jefferson's Ferry in South Setauket, NY, recently was feted at a surprise luncheon by management and the housekeeping department for being named Employee of the Month for January and more recently becoming a naturalized U.S. citizen.
(Here, Carrasco, holding the plaque, is pictured with, from left: Jefferson's Ferry President and CEO Robert E. Caulfield, Director of Housekeeping Patti Gallagher and Vice President of Hospitality Services Chris Adamo.)
"We're very proud of Augie and what he's accomplished as a member of our team," said Director of Housekeeping Patti Gallagher.
"His work ethic, along with the respect and care he shows to the residents and his co-workers, are nothing short of exemplary," Jefferson's Ferry President and CEO Robert E. Caulfield added.
Carrasco has worked for Jefferson's Ferry since first coming to the United States from the Dominican Republic 5 years ago. The celebratory luncheon featured an all-American meal of hotdogs, fried chicken, potato salad, macaroni salad and coleslaw, topped off with a red, white and blue trio of desserts (cherry, apple and blueberry pies). The dining room was festooned with flags and balloons, and Carrasco was presented with a USA shirt and his Employee of the Month plaque.
Presbyterian Communities and Services names chief medical director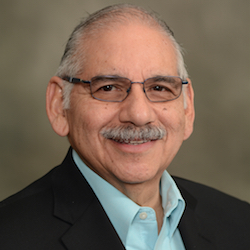 Alexander Peralta Jr., M.D., has been named chief medical director of Dallas-based Presbyterian Communities and Services' Faith Presbyterian Hospice and the new T. Boone Pickens Hospice and Palliative Care Center.
The internal medicine specialist has 35 years of expertise in hospice care and palliative medicine and is a former pharmacist.
"His experience with driving successful hospice programs will help him as he oversees the T. Boone Pickens Hospice and Palliative Care Center that recently opened," said Tim Mallad, president of Presbyterian Communities and Services, who made the announcement. "This standalone residential and inpatient center is the first of its kind in Dallas, and with Dr. Peralta's leadership, we hope to set a new standard for hospice care."
Anna Maria Chávez joins NCOA as chief strategy officer, SVP for external affairs
Anna Maria Chávez has been hired as chief strategy officer and senior vice president for external affairs at the National Council on Aging.
She will oversee NCOA's policy and advocacy, marketing and communications, fund development and strategic partnership development, and community network.
Chávez worked for almost a decade on aging issues in her home state of Arizona. While serving in Gov. Janet Napolitano's administration as director of intergovernmental affairs, she launched the governor's Aging 2020 initiative and created the Arizona Division of Aging and Adult Services. Before that, she was assistant director of the Division of Aging and Community Services.
Most recently, Chávez served as national CEO of Girl Scouts of the USA.
Send personnel news to Senior Editor Lois A. Bowers. Please include a photo.