October 15, 2015
Phoenix Senior Living breaks ground on $17 million community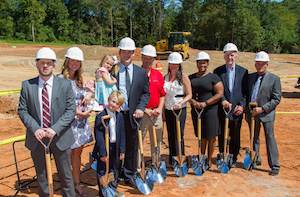 Celebrating the groundbreaking of Phoenix at Milton.
Phoenix Senior Living broke ground on a new $17 million senior living community, Phoenix at Milton, Sept. 15, in Milton, GA. The construction project is bringing 250 jobs to the area, and when the community is complete, it will employee 85 people, according to the company.
Phoenix at Milton will have 85 apartments, 67 for traditional assisted living and 19 for those needing memory care. The building will offer studio, one- and two-bedroom apartments; a physical therapy/ exercise room; a bistro; a piano lounge; a full-service salon; a pub; a library; and a computer room with associates scheduled to assist future residents. A community room will host performing arts events and guest lecturers, and a cafe will host cooking demonstrations and classes for residents, their families and the local community.
The project's architects and interior designers are creating an interior design to leverage natural lighting and common area space with easy access to outdoor patios and courtyards. The exterior amenities also will include a paved walking path around the building with resting spots along the way.
Pictured in the accompanying photo: Ryan Sullivan, Heather Marinko, Colt Marinko, Blakely Marinko, Hudson, Marinko, Phoenix CEO Jesse Marinko, Milton Mayor Joe Lockwood, Meggan Drew, Yolanda Hunter, Allen Calhoun and Ray Taylor.