April 12, 2016
Residence at Five Corners opens in Easton, MA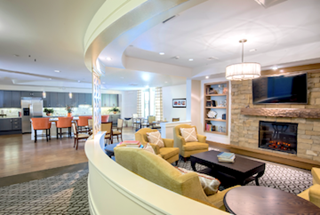 The common area at The Residence at Five Corners, with the kitchen in the background.
The Residence at Five Corners, an LCB Senior Living community in Easton, MA, held its grand opening celebration on April 12.
The 81,000-square-foot community offers 84 residential units set in the heart of town in an effort to bring residents closer to local cultural and recreational attractions. Offerings include independent and assisted living as well as memory care.
"Easton is a wonderful location for us," said LCB Senior Living CEO Michael S. Stoller. "The combination of natural beauty and access to all of the wonderful resources that the area has to offer is truly unparalleled."
The community was a project of architecture and master-planning firm The Architectural Team Inc. The architecture and interior spaces were designed to reflect the traditional aesthetic of Easton. The color palette emphasizes warm whites and deep chocolate hues, with contrasting elements of tangerine, warm gray and rich blue.
Amenity spaces are designed to promote interactivity, creativity, wellness and independence. They include an on-site restaurant serving gourmet meals, living rooms, a library, a media room, an activity room, outdoor seating and walking paths.
The Residence at Five Corners offers LCB's Reflections Memory Care program for residents with early-stage Alzheimer's disease and other memory impairments. Reflections includes cognitive programming and a range of daily services in a secure, safe environment with its own common areas, walking courtyard and other amenities.