February 16, 2016
Senior Lifestyle commemorates 30th anniversary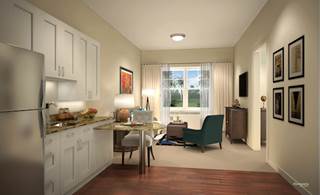 A bedroom at Sheridan at Lakewood Ranch, Lakewood Ranch, FL.
Senior Lifestyle will commemorate its 30th anniversary by opening a series of assisted living and memory care communities named The Sheridan Collection.
"We have worked to bring this concept to market for three and a half years and are excited to see our effort and long-term visions come to fruition throughout the next year," said Jon DeLuca, president and CEO of Senior Lifestyle. Five Sheridan Collection communities are planned to open this year, with eight more on track for 2017.
"The vision for The Sheridan Collection originated by identifying the very best features from our bigger family of brands," said Adam Kaplan, senior vice president of business and organizational development at Senior Lifestyle. "Objective assessments of the many lessons learned over the last 30 years have contributed toward reaching a new level of quality service for each of our residents."
The co-founder and chairman of Senior Lifestyle, Bill Kaplan, said he has seen the industry evolve throughout Senior Lifestyle's first 30 years. "I started Senior Lifestyle 30 years ago when I identified a void in the market for quality living options for active seniors," he said. "It began as a passion to offer an alternative to outdated seniors housing facilities, but as our business progressed, it quickly became clear that someone needed to set new industry standards."