November 10, 2015
Sunrise unveils 'Living with Purpose' programming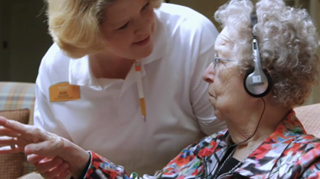 Sunrise unveils 'Living with Purpose' programming
Sunrise Senior Living has unveiled its Live With Purpose programming — designed to provide residents with continued options to engage, express, learn and grow every day — in all of its communities.
Consisting of eight programs — stressing action, anticipation, artistry, generosity, learning, legacy, melody and reflection — the programming uses evidence-based research and seeks to meet the unique needs and interests of seniors at each community.
"Live With Purpose demonstrates our ongoing commitment to innovate in senior care and enrich our residents' lives," said Chris Winkle, CEO of Sunrise. The program already has seen the positive effects of the approach, he added.
The programming brings together Sunrise residents, their loved ones, team members and the greater community, said Rita Altman, senior vice president of memory care and program services for Sunrise. "No matter your age, each of us has interests, desires and activities that make us feel whole and help contribute to a meaningful, healthy life. Our latest programming honors this and includes elements that can have a profound impact on residents' mental, emotional and physical well-being, 365 days a year."
Activities and volunteer coordinators at each community develops calendars tailored to the unique needs and preferences of each resident, with specific local opportunities in mind. This effort is complemented by Sunrise's "whole home" approach to programming, in which all team members work together to plan, organize and facilitate a variety of personalized activities for residents.