November 15, 2016
Tanbic's big plans for seniors housing start with $15.4 million buy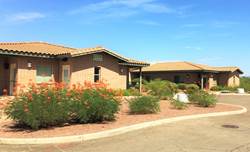 The purchase of Friendship Villas at La Cholla marks Tanbic's entry into seniors housing.
Middle-market real estate private equity firm The Tanbic Company has entered the senior living space with the $15.4 million purchase of Friendship Villas at La Cholla. The company said it aims to allocate $100 million to potential acquisitions or developments in seniors housing within the next year.
Tanbic, based in Scottsdale, AZ, partnered with full-service senior living provider Solterra Senior Living, also of Scottsdale, in the purchase. Friendship Villas consists of a total of 103 beds in five villa homes. Four of the homes support 18 residents each. The fifth is dedicated to serving up to 31 memory care residents.
Tanbic said it has been forming partnerships with experts in seniors housing operations for the past year, taking notice of the predicted growth of the industry due to the aging population.
"Providing housing to seniors fills a need in a socially responsible way, while simultaneously producing attractive returns to our investors," said Tanner Bickelhaupt, the company's founder and CEO. "For us, our senior operators must share our goals — most importantly, our commitment to providing genuine care."
Tanbic believes that assisted living and memory care communities are often-overlooked segments of the market when it comes to providing risk-adjusted returns. Because of the complexity of operations, the company maintains, investors historically have favored independent living communities, which require fewer services.
In addition to seniors housing, particularly independent and assisted living, the company's other commercial investment focus is multifamily market rate/value add housing. Tanbic said it seeks to invest between $3 million to $12 million in equity capital per transaction.