November 20, 2015
Village Square breaks ground in Pennsylvania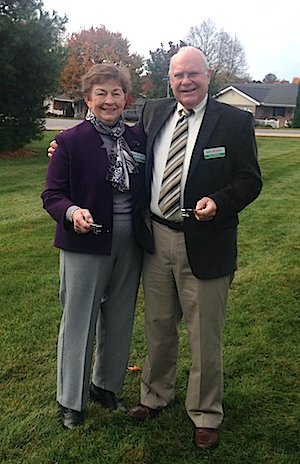 Lois and Barry DeRoos have signed up for Village Square and participated in the groundbreaking.
Messiah Lifeways, Mechanicsburg, PA, broke ground on the Village Square, the first phase of the continuing care retirement / life plan community's long-range expansion plan, called Project Envision, in late October.
The town village concept features 84 apartment homes with underground parking and lifestyle amenities including a wellness and enrichment center, a spa and a bistro open to residents as well as members of the public aged at least 55 years.
The Village Square is the intended centerpiece of a 20-year plan to meet the changing needs of future generations of older adults. Beyond private residences, Village Square also will include common spaces, public dining venues and two community programs: the Pathways Institute for Lifelong Learning and Messiah Lifeways Wellness.
This first phase of Project Envision also will include the addition of 26 large "enhanced living" apartments and two nursing neighborhoods that will serve 32 new residents, doubling nursing capacity.