March 17, 2016
Ziegler closes on $44.2 million financing for Sunny Vista Living Center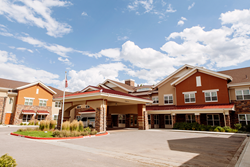 Sunny Vista Living Center
Specialty investment bank Ziegler recently closed the $44.2 million unrated, fixed-rate Series 2015 bond issue for Sunny Vista Living Center.
The not-for-profit Sunny Vista Living Center was founded in 1911 as a tuberculosis sanatorium. To meet the needs of its changing community in Colorado Springs, CO, Sunny Vista has grown to operate a 110-bed skilled care and rehabilitation center as well as an independent living center for older adults and low-income residents who have disabilities, which includes 50 one-bedroom apartments.
The 2015 project included a plan to develop a new, 55,500-square-foot assisted living facility with 38 assisted living units and 28 memory care units (32 beds) on approximately 4.78 acres. It includes a multipurpose lounge with fireplace and attached outdoor deck, life enrichment room, life skills lounge, family room with connected outdoor patio, private dining room, sun room, a "bathtique," staffing offices and central outdoor patio and garden with walking path.
Parallel to the bond transaction, the Villa at Sunny Vista and Sunny Vista Living Center merged. Before the merger, Sunny Vista Living Center and the Villa, owner of the 50-unit Department of Housing and Urban Development facility, maintained an affiliated relationship and interconnected operations. Today, the CEO of Sunny Vista Living Center also is the CEO of the Villa. Certain employees of Sunny Vista Living Center, under the supervision of the Villa's CEO, maintain the independent living facility.
As a result of the merger, the Villa and Sunny Vista Living Center will present its facilities as a single, consolidated campus. The addition of the new assisted living units will allow Sunny Vista Living Center to provide a continuing care retirement community on its campus. As a nursing facility provider, Sunny Vista Living Center is subject to a provider fee. With the merger of Sunny Vista Living Center and the Villa, which allows the two entities to operate as one entity under which all three levels of care are provided, Sunny Vista Living Center will qualify for the provider fee exemption which frees up more than $402,000 in its stabilized year of 2019.
"To have the opportunity to be a part of Sunny Vista's organizational growth and to share in its newly offered full continuum of care across generations is fulfilling," said Will Carney, managing director in Ziegler's senior living finance practice. "We look forward to the opening of the new assisted Living facility."