Continuing Care Retirement Community (CCRC)
A housing community that offers different levels of care -- from independent living apartments to skilled nursing care. Residents move from one setting to another based on their care needs but continue to remain a part of their CCRC's community. Typically, CCRCs require a significant payment (called an endowment) prior to admission, then charge monthly fees above that.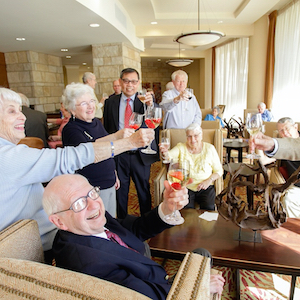 April 18
Spreading thanks
Houston and North Greenbush, NY
Residents of Brazos Towers at Bayou Manor, a senior living community in Houston, recently held a virtual "gratitude party" for residents of Eastwyck Village of North Greenbush, NY, to thank them for their assistance after Hurricane Harvey.