January 22, 2018
A bright spot in an otherwise grim weekend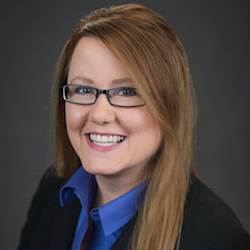 Lois A. Bowers
During a weekend in which the federal government shutdown dominated online news feeds and television news programs, a bright spot emerged when Atria Senior Living residents and employees wished actress Kristen Bell good luck hosting Sunday night's Screen Actors Guild Awards.
The greetings from Atria were shared with Bell and the larger world by E! News, which posted a 1:13 minute clip Sunday of the surprised actress once again seeing the Florida friends she had made during Hurricane Irma.
"That's going to give me the fuel I need, I think, to do a really good show," Bell said after watching the video on a laptop.
Bell and Atria, you'll recall, made headlines in September when Atria residents were evacuated to the same Walt Disney World hotel where the actress was staying during the filming of a movie. Bell shared photos and videos of her singing and playing Bingo with residents on her social media accounts, and she appeared with residents on "Jimmy Kimmel Live!"
Bell smiled, laughed and called out the names that went with familiar faces as she watched the new video. Residents said, "We love you, Kristen."
Atria said it wanted to share a virtual hug with Bell on National Hugging Day, which was Sunday. "Everyone at Atria, I love you right back," Bell said.
Watch the video below (you may need to click the "x" in the lower right corner to be able to hear it) and scroll down to read more about the government shutdown.
The video also is viewable on the E! News website.
As Bell hosted the SAG Awards, the federal government shutdown appeared about to enter its third day. The Senate was preparing for a procedural vote at 1 a.m. ET Monday, with another vote expected at noon. (Tuesday update: See "Government set to reopen, but more work required for long-term budget deal that could deliver fixes for seniors.")
If a compromise is not reached, 800,000 federal employees are expected to remain at home, including approximately half of the Department of Health and Human Services' 82,000 employees, according to a contingency staffing plan posted by the department late last week.
The actress might be happy to hear that the Centers for Disease Control and Prevention will ensure that staff members currently supporting the ongoing hurricane response work will continue that work and respond to immediate and ongoing public health needs in the affected areas, according to the plan. HHS also said that the CDC's immediate response to urgent disease outbreaks, including seasonal influenza, will continue.
The Medicare program also is expected to run "largely without disruption" during the shutdown, and state funding for Medicaid is sufficient to last through the second quarter, if necessary, HHS said. Funding for the long-term care ombudsman program of the Administration for Community Living will not be available, however, the department said.
The length of any shutdown will play a central role in the Department of Housing and Urban Development's ability to fully support its affordable seniors housing and other programs, according to LeadingAge. HUD has posted its contingency plan online.
Also according to LeadingAge, Social Security checks should continue, although those seeking benefit verification statements, replacement Social Security cards or earnings record updates likely will have to wait until the shutdown ends.
The federal government has experienced 18 shutdowns since 1976, lasting anywhere from one to 21 days, according to Axios.
Lois A. Bowers is senior editor of McKnight's Senior Living. Follow her on Twitter at @Lois_Bowers.