Greenspring during Winter Storm Jonas
White: out.

Staff used snow plows, snow blowers, shovels and large and small tractors to move snow from the roadways and walkways on the 58-acre Greenspring campus.

Buffet-ing the storm.

Resident volunteers worked with the dining staff to help serve more than 2,500 resident meals each day during the storm.

Not so abominable.

Residents who volunteered during the snowstorm received buttons that said: 'Jonas Blizzard Volunteer.'

Letting the love shine.

"Only the warmest hearts live and work at Greenspring" served as the motto throughout the snow storm at Greenspring.
Next
Prev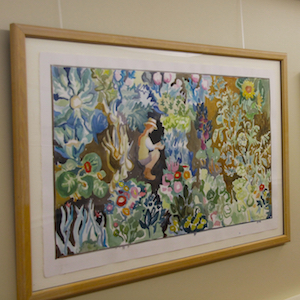 March 14
Hall marks
Newtown, PA
Pennswood Village is encouraging residents to hang their artworks in the community's hallways.