February 27, 2017
Education as an investment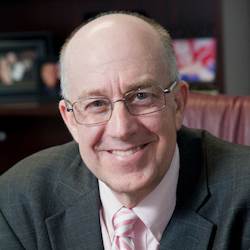 Larry Bradshaw
When I started college, I really wasn't sure it was for me based on my first-year academic performance. In fact, I initially declared I wasn't returning to college after my first year, much to my family's, including my future wife's, chagrin. Although not pleased with my decision, my grandmother, in particular, had faith and assured me that I would find my way back again. It turns out she was right.
That summer after my first year of school, a tornado hit our small Kansas town. I had taken a job working for a local moving company, so it was a long and back-breaking summer. On a late Sunday afternoon on the golf course, trying to decide which direction my life needed to take, I met Laura McAntee, an accounting professor at Emporia State University. She encouraged me to come back to school and, specifically, to take her introductory accounting class. That day on the golf course resulted in me finding a skill set that would serve me throughout my career. Her interest in me, and ultimately my re-commitment to education, was an investment — at the time, I wasn't sure what in, but it turned out to be just what I needed to prepare me for a 30+ year career in senior living.
Investing in the education of senior living employees is an investment in our industry's future. With countless articles outlining retention challenges and attraction of new senior living employees, we as providers only have one choice — to do our best to position the next wave of leadership in this industry. Sometimes, if we are not careful, our service to seniors can be at the expense of our staff. This is particularly prevalent if we do not have mechanisms in place to properly encourage and care for staff. We at National Lutheran Communities & Services believe that if staff members feel valued, engaged and cared about, then our seniors will feel that way, too.
No one-size-fits-all approach to attracting or retaining talent exists. As National Lutheran Communities & Services has taken a purposeful and strategic look at how to address those issues, however, some of the solutions we are deploying focus on the learning opportunities and education that we provide to employees.
According to the Association for Talent Development, organizations that are more successful have an ongoing culture of learning. That culture often is a hallmark of high-performing organizations. High-performance organizations, ATD noted, are three times more likely to hold all leaders accountable to demonstrating the importance of learning. Creating a culture of learning is not an overnight task; rather, it is purposeful in seeking to encourage curiosity and a love of learning.
Over the past three years, National Lutheran Communities & Services has significantly invested in learning and education. We created an education department within human resources to provide the necessary and mandatory compliance trainings but also to offer various electives and drive forth how we deliver our care and customer service. This effort has helped increase clinical competencies by 20%.
Our curriculum and offerings are three times greater than the minimum mandatory healthcare requirements — and although you may think that sounds onerous, it has proven to help staff excel and increase operational confidence. We average 94% compliance each month and continue to aspire to a goal of 100% compliance.
Each staff member averages 30 learning hours per year. Optional electives, in an on-demand online platform, can range from learning a new language to developing leadership skills.
In keeping with a learning mindset, we recently partnered with American Public University to cultivate staff opportunities to pursue additional coursework and degrees. Each staff member is eligible for yearly tuition reimbursement, and with this APU partnership, those dollars can be applied directly to coursework; the necessary books and study guides come free.
The ongoing learning doesn't stop there. Supervisors are encouraged to mentor and coach their teams and find out what skills and opportunities their staff members would like to pursue. Armed with that knowledge, supervisors can make specific recommendations for ongoing coursework, conferences, seminars or even opportunities for cross-department collaboration.
These changes did not, and could not, happen without the support and consent of our board members. We did this because we believe we cannot afford not to. We believe a robust education and learning program is the foundation to attracting and retaining the best and brightest staff.
As providers, we can examine ways to infuse education and learning opportunities into everything we do. Whether that is through partnerships, programs or other creative solutions, investing in the next generation is an operational imperative we must undertake to provide the best legacy for our industry.
As the president and CEO of National Lutheran Communities & Services, Larry Bradshaw focuses on strategically expanding and furthering the organization's 125-year mission of providing lifestyle, residential and healthcare options for seniors. He has more than 30 years of experience in strategy and growth in senior living.
McKnight's Senior Living welcomes guest columns on subjects of value to the industry. Please see our submission guidelines for more information.