Home- and community-based service waivers
Section 2176 of the Omnibus Reconciliation Act permits states to offer, under a waiver, a wide array of home and community-based services that an individual might need to avert institutionalization. Regulations to implement the act list the following services as community- and home-based services which may be offered under the waiver program: case management, homemaker, home health aide, personal care, adult day health care, habilitation, respite care and other services.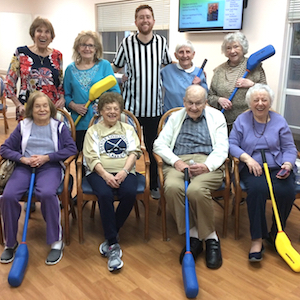 April 25
Wellness goals
Monroe Township, NJ
Residents at Monroe Village have been staying in shape by playing hockey during the NHL season and the Stanley Cup Playoffs.