May 25, 2017
1,100+ years of living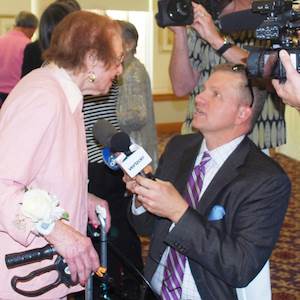 Gurwin Jewish - Fay J. Lindner Residences' Minnie Hutter is interviewed by the local media.
Eleven women residing at the Gurwin Jewish - Fay J. Lindner Residences assisted living community in Commack, NY, each aged approximately 100 or more years, recently were honored as the inaugural class of the Gurwin Centenarians Society.
The residents were awarded citations by New York Sen. John Flanagan and Assemblyman Andrew Raio. Local news media also covered the event.
"We were thinking about how remarkable and special it was to have so many people reach this milestone," said Michael Letter, chief operating officer at Gurwin Jewish - Fay J. Lindner Residences. "We just decided we wanted to come together, and honor and celebrate that."
Many of the women's family members were present for the occasion, which also came during National Older Americans Month, offering the opportunity for them to share reflections on the past century.
Each of the centenarians has seen 19 presidents, dating back to William Howard Taft. They were born around the same time as the creation of mass-produced automobiles, and they have witnessed the invention of the jet engine, the electric razor and the ballpoint pen.
They lived through the Great Depression, World War I and II and other conflicts, saw the invention of antibiotics and watched men land on the moon.
Members of the new society:
Doris Goldenberg, 99
Beatrice Halperin, 100
Minnie Hutter, 100+ (it's her secret)
Grace Lerner, 104
Frieda Norotsky, 102
Ethel Silverman, 100
Helen Smith, 101
Jeannette Stelzer, 100
Helen Stemple, 104
Golda Thaw, 100
Fannie Wicentowski, 103
Click here to see the In Focus archive and read how to submit your photos for consideration.