May 16, 2018
$3 million milestone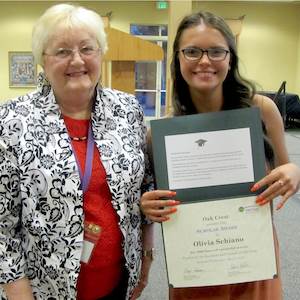 Dee Real, left, a resident of Oak Crest and member of its Resident Advisory Council, poses with Olivia Schiano, a dining services student and scholarship recipient.
Oak Crest in Parkville, MD, recently passed the $3 million mark in the amount of scholarship funds the community has awarded to employees over the past 22 years. A total of 815 workers have benefited in that time.
Earlier this month, a 42-member class of what the Erickson Living-managed continuing care retirement community calls Student Scholars, all members of the dining services department, were awarded four-year college scholarships of $7,000 each. This year's campaign was funded by more than $115,000 raised primarily through resident contributions.
Additionally, a "Working Scholars" award, a one-year scholarship worth $1,750 for college students employed at Oak Crest, was introduced this year. Five employees earned the scholarship.
"We are proud of these recipients for their professionalism and commitment to learning," said Jill Clippinger, director of dining services at Oak Crest. "In turn, we appreciate the generosity of our residents for contributing to the scholarship fund and sharing their life experiences with all of the students."
A previous scholarship recipient gave the keynote address at the event. Ashley Ruth, now the personal moving consultant at Oak Crest, began working for the community in 1996 in the dining services department when she was in high school. She received a scholarship in 1999 and subsequently earned a degree in gerontology from Towson University. Along the way, she also worked in the general services and resident life departments at Oak Crest.
Click here to see the In Focus archive and read how to submit your photos for consideration.