June 28, 2017
A leafy adventure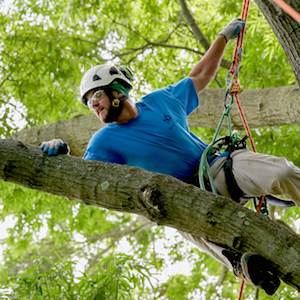 A professional arborist demonstrates his tree-climbing techniques June 10 at the Robert A. Winters Arboretum at Meadow Lakes.
Meadow Lakes, a Springpoint retirement community in East Windsor, NJ, recently offered its arboretum to be the site of a qualifying event for the International Society of Arboriculture's International Tree Climbing Championship.
Twenty professional climbers, all arborists, came June 10 to demonstrate tree-climbing techniques and reinforce skills and safe working practices while entertaining Meadow Lakes community members and guests. They were competing for the opportunity to represent New Jersey at the competition.
"There was a wholesome spirit of friendly competition throughout the day, with climbers learning techniques and tricks from each other," said Joseph Greipp, director of the Robert A. Winters Arboretum at Meadow Lakes. "Residents and guests really enjoyed interacting with the climbers. The event raises awareness not only of best practices for this dangerous height work but also stresses the importance of proper tree care."
Greipp himself is an ISA board-certified master arborist and New Jersey-certified tree expert and worked with the New Jersey Chapter of ISA to host the event at the community.
Meadow Lakes joined the American Public Gardens Association's national registry in 2005. During more typical days, the arboretum provides community members with an ever-changing landscape and connection with nature.
Click here to see the In Focus archive and read how to submit your photos for consideration.