September 09, 2015
A nice catch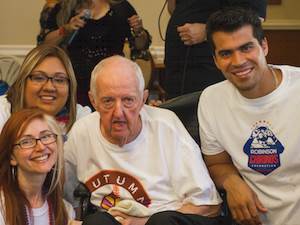 Lindsey Hernandez, upper left; Oren Seaton, center; and Texas Rangers catcher Robinson Chirinos.
Autumn Leaves, a residential memory care provider with more than 40 assisted living communities across the country, recently welcomed Texas Rangers catcher Robinson Chirinos to fulfill a wish for a resident of its community at Fossil Creek in Ft. Worth.
Oren Seaton has Lewy Body Dementia and was unable to attend a baseball game, but Lindsey Hernandez, the community's life engagement manager, arranged for Chirinos; his wife, Heidi; and their 7-year-old son to visit. Chirinos signed baseballs and autographs and even brought a Tejano band with him to sing and dance with the residents.
Also in attendance were other Autumn Leaves residents; Seaton's wife, Beverly; and children from a neighboring Montessori school.
Hernandez said she felt "excited, happy, awesome" after the event. "I feel like I accomplished something to make someone's life happy," she added.
Click here to see the In Focus archive and read how to submit your photo for consideration.