March 23, 2016
A very special aviary event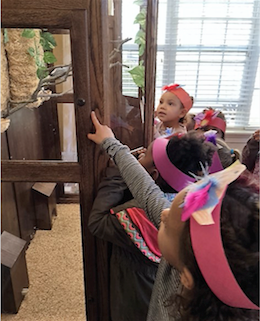 Children visit a Candle Light Cove aviary.
The young and the young at heart recently joined in a special event at Candle Light Cove senior living community in Easton, MD: A group of children from the Mid-Shore Learning Center joined residents in a celebration of the addition of two new aviaries, one in assisted living and another in the memory care neighborhood.
"This truly was a special event, as the children were in awe of the birds in the aviaries," said Cissy Stoner, executive director at Candle Light Cove, who added that about 20 preschool-aged children attended the event. "Our senior residents really appreciated seeing the smiles and the bright-eyed look on the faces of these kids. The aviaries already have made a significant impact on the quality of life for our seniors, and now they had an opportunity to share the experience with these youngsters."
Stoner said the birds' presence certainly is a conversation-starter, but she noted that the aviaries serve a much more important role. The community pets and birds often provide animal-assisted therapy, which enhances the lives of residents.
"Aviaries have a significant impact and are especially therapeutic for those seniors who have Alzheimer's," she said, adding that residents find the presence of the aviaries relaxing and enjoy their colors and chirping. "The birds may keep their attention for 10 to 15 minutes, which is longer than music typically does."
Candle Light Cove is an IntegraCare community.
Click here to see the In Focus archive and read how to submit your photos for consideration.