April 13, 2017
An Easter parade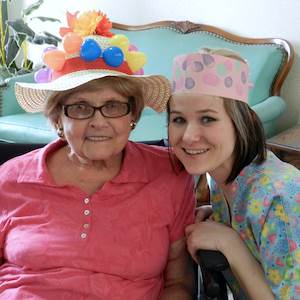 Saint Mary's resident Donna Waskiewicz, left, with Abbey Mihlak, CNA.
The employees and residents at Saint Mary's East in Erie, PA, kicked off their Easter celebrations April 5 by donning bonnets and hats they had designed and decorated and showcasing them in a campuswide parade to which family members were invited.
"The residents had fun making their bonnets and hats," said Gayle Meyer, residential activity coordinator. "They also took pride in making extra ones for those who could not make their own. Some of the residents are looking forward to wearing their bonnets again to Easter Sunday Mass."
The parade, which also featured some vintage costumes provided through the Erie Playhouse, was an example of Saint Mary's Home of Erie's mission of "fostering an atmosphere of community," said Sister Phyllis McCracken, president and CEO.
Click here to see the In Focus archive and read how to submit your photos for consideration.