February 07, 2018
Big Easy thank you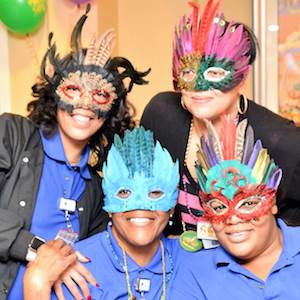 Big Easy thank you
More than 100 employees wore masks and boas, listened to music, played carnival games and consumed traditional New Orleans food and drinks at the Jan. 30 Mardi Gras-themed party hosted by Lantern Hill, a continuing care retirement community in New Providence, NJ.
"Employees had a fantastic time," Human Resources Director Graham Haskell said, noting that the Erickson Living community holds other events throughout the year "to thank them for making Lantern Hill a great place to live and work."
On the menu were jambalaya, crab and shrimp etouffee, shrimp and okra hush puppies, mini muffuletta sandwiches, a king's cake, Arnold Palmers (half lemonade, half iced tea) and chicory coffee. A prize drawing included Fitbits, gift cards and more.
Click here to see the In Focus archive and read how to submit your photos for consideration.