October 21, 2015
Celebrating in many ways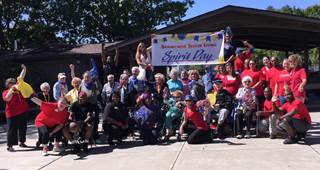 Participants in the Haverford vs Dresher Spirit Week during the 2015 National Assisted Living Week.
Brandywine Senior Living celebrated National Assisted Living Week for the 15th time this year, spanning 27 communities in five states.
Among the events and programs:
Spirit Day (Dresher Estates versus Haverford Estates) at Mondauk Common, Ambler PA,
2016 Calendar Release Party at Fenwick Island, Selbyville, DE,
All American Baseball Picnic at Voorhees, Vorrhees Township, NJ,
Eternal Elegance Prom with Ballroom Dancing at Senior Suites, East Norriton, PA,
Life Advice Video Unveiling at Middlebrook Crossing, Bridgewater, NJ, and
Nostalgic Fashion Show at Mountain Ridge, Watchung, NJ.
"Residents danced, laughed, competed in fun competitions and many tried something new. Stories were formed that will be shared throughout the year," said Maria Nadelstumph, vice president of organizational development and program excellence.

The celebration also included video essay submissions, called The INVEST Project, designed to capture the essence of Brandywine memory care residents and their stories.

Throughout the week, communities also held fundraisers to benefit local and national charities. Residents baked homemade dog treats for local animal shelters and the Society for the Prevention of Cruelty to Animals, created crafts and sent thank you cards for local police departments and those in service, collected canned goods to benefit food banks, and held a "Dunk & Donate" with proceeds going to St. Jude Children's Research Hospital. A total of $4,946 was raised and distributed among these organizations and charities in addition to the Alzheimer's Association, Cradles and Crayons and the Ronald McDonald House.

Click here to see the In Focus archive and read how to submit your photos for consideration.