March 02, 2016
Color them happy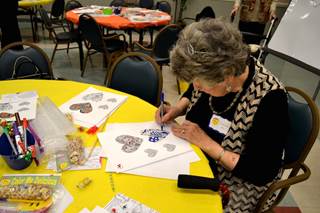 Coloring supplies and snacks awaited attendees of Grace Ridge's recent coloring party.
Color Me Happy was the theme when Grace Ridge, a continuing care retirement / life plan community in Morganton, NC, hosted a coloring party and art lesson for more than 80 residents and their family members and friends on Feb. 12.
Tables were strewn with coloring pages, markers, pencils, snacks and paper hats scrawled with "feel-good" quotes. "Good-mood" music was playing, helium-filled balloons bounced around the room and the scent of homemade chili wafted through the air. The event also featured a prize drawing and dancing.
"The great thing about coloring is, it's so broad that anybody can do it," said Evelyn Beaver, the director of life enrichment, artist and painter who organized the gathering. "You can pick a design that best fits with your abilities, the acuity of your vision and the steadiness of hands. It can be a very simple design or a complex one. All that matters is that you enjoy it."
Like many adults across the country who lately have popularized the hobby, resident Gay Nelson said she has found coloring to be addictive. "You don't need any artistic talent, and you don't have to draw anything," she said. "You just find a black-and-white picture that appeals to you, you fill it in with color and, by golly, it turns into something."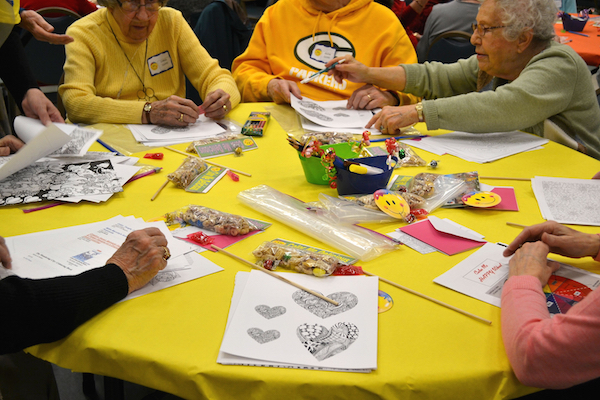 Grace Ridge coloring party attendees enjoy an art lesson and snacks.
Click here to see the In Focus archive and read how to submit your photos for consideration.