November 29, 2017
Destined for dining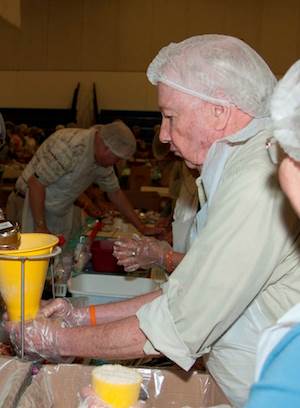 Devonshire resident Bob Frasier packs bags of food for children who live in Puerto Rico and Haiti.
Fifteen residents of Devonshire at PGA National, an Erickson Living retirement community in Palm Beach Gardens, FL, recently packed food to be sent to children in Haiti and Puerto Rico. Their effort was in partnership with St. Mark's Episcopal Church and School and Temple Judea, both located in Palm Beach Gardens.
"This project is part of a larger national effort, but locally it's been hosted by St. Mark's Episcopal Church and School," resident Bob Frasier said. "There was added importance this year because of the severe damage done by Hurricane Maria in Puerto Rico. There are also many employees at Devonshire from Haiti, or are of Haitian descent. I see this as a way to thank them for all they do for us."
The work involved putting measured amounts of soy, vegetables, beans, spices and rice into a pre-labeled plastic bag, which then was hermetically sealed and placed into a shipping carton. Each bag provides six meals for schoolchildren.
"Our team packed seven cartons, each containing 36 bags, for a total of 1,512 meals," resident Shirley Diuro said. "It's a huge team effort, and I'm thrilled people from Devonshire are able to help."
Click here to see the In Focus archive and read how to submit your photos for consideration.