February 03, 2016
Fairy tales come true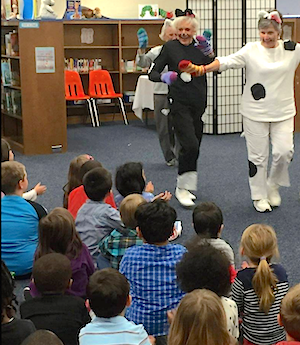 Residents of Atlantic Shores entertain Birdneck Elementary School students.
A talented troupe of actors — 16 residents of Atlantic Shores Retirement Community — recently entertained Virginia Beach, VA-area students with their adaptations of classic fairy tales during performances of "Mother Goose Live."
Each show brought 10 nursery rhymes to life, accompanied by live music. The residents worked together to script and choreograph the performance, with Atlantic Shores Resident Services Director Kathy Parks serving as Mother Goose, resident Rachael Gobble directing, and Atlantic Shores' Mark Pettiford accompanying on guitar.
Performances were staged for more than 1,000 children at four area elementary schools as part of the community's intergenerational community outreach. The acting troupe provided teachers with the featured nursery rhymes in advance, so students could experience them on the written page before they were enacted for them.
Residents also have helped create an educational program incorporating visits by puppies to area grade schools as part of the Atlantic Shores/Guiding Eyes for the Blind Puppy Love Program, have volunteered as K-2 classroom readers at Ocean Lakes Elementary for more than 10 years and have donated food to the Virginia Beach Public Schools' Beach Bag program to help feed students in needs.
Click here to see the In Focus archive and read how to submit your photos for consideration.