September 27, 2017
Five-minute films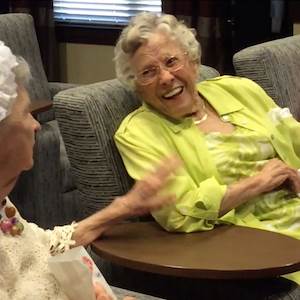 A scene from "The Solana Vintage Park: The Move," one of the submissions to Brookdale's Celebrate Aging Film Festival.
Brookdale Senior Living residents and staff recently worked together to create movies designed to change the perception of aging and communicate positive, uplifting or touching messages.
Oct. 2 is the deadline for people to watch nine five-minute film finalists made for the Brentwood, TN-based company's Celebrate Aging Film Festival and vote for the winner of the Ecolab's People Choice Award.
Brookdale communities had until July 31 to submit their films. From there, the 74 submissions were reduced to nine in best picture, best writing, best acting and best technical design categories. Those awards, plus the People's Choice Award and a Courage Award for the film that tells a story of courageous older adults living life to the fullest, will be presented Oct. 4 during an event at the historic Franklin Theatre in Franklin, TN.
Residents from the nine communities with nominated films, accompanied by a Brookdale associate, will travel from all over the country. The "movie stars" will receive the celebrity treatment, including a red carpet walk with photographs and a special screening to celebrate their efforts.
Click here to see the In Focus archive and read how to submit your photos for consideration.